Back when we were still living in condos and just started blogging about DIY projects, I came up with the idea of ​​designing and decorating an entire condo using a democratic method of presenting options to our readers. As a result of the vote, the majority vote won and the idea in favor of the majority vote had to be implemented.
In the end it didn't work. I had very little money at the time and had no idea when I could actually implement my design and decorating ideas into a condo. I still think it's an interesting social experiment, but I don't think I would have the courage to decorate my house like that. For those who haven't figured it out yet, I'm a little weak with controls. 😀 Also, I like the freedom to change my mind about decorating decisions, and I do so many times a day.
I solicit opinions on a regular basis, but rarely with a "majority rule" approach. Sometimes we agree with the majority. I often get a lot of comments from people who offer their opinions, but it's one of the comments that catches my attention, such as a unique, out-of-the-box suggestion, or something I would never have thought of myself. one or two. .
But not this time. I narrowed it down to two options for the countertop in my studio. A light choice and a dark choice. I've been staring at these samples since Tuesday and I'm still unmoved in either direction. I like both for different reasons, but can't seem to decide between them.
Dark is Lowe's Faux Hardwood Flooring in Saddle Hickory. Each piece is 3/8″ thick, 3.5″ wide and 4′ long. $2.99 ​​per square foot. The bright side is LL Flooring's Capistrano Beach Oak faux vinyl plank flooring. Each piece is 1/2 inch thick, 7.5 inches wide and just over 4 feet long. $3.19 per square foot.
Here they are both next to the wallpaper (not the new wallpaper with color edits, but the old one, but that should do it for the time being), the floor paint color, and the two colors that are similar to the floor color. is the paint color. go to the cabinet.
I love them both! It's good that it's light… Hmmm…light. And I like that it's a happy middle ground between natural (brownish) woodtones and light gray woodtones. It's a warm gray similar to the classic gray we used for the floor, but it's a little more brown than the floor color. I think that the lighting will be very beautiful if it matches the color of the cabinet.
On the other hand, I love the richness of dark samples. And I think you can't go wrong with choosing neutral dark wood for most rooms. I think it's very beautiful with the color of the floor and cabinets, and the wallpaper. Dark wood adds a beautiful warmth to the room.
As it happens, there is an example of a cabinet in the bathroom in the hallway with warm dark wood countertops. This is a butcher block style countertop I made 9 years ago. As an aside, I've never found this dark wood countertop difficult to keep clean. It's in the bathroom we use the most in our house. So I'm not too worried about the difficulty of keeping dark countertops clean in the studio.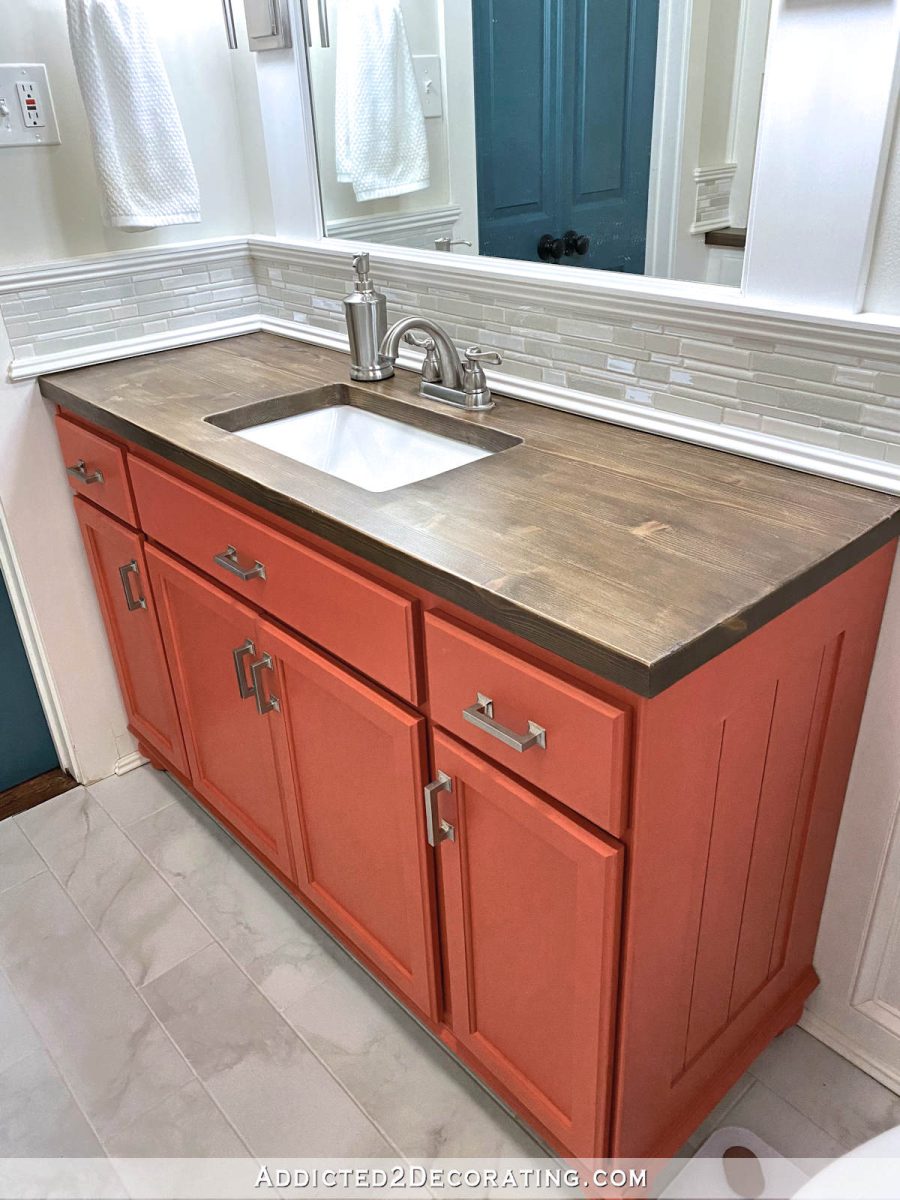 So please decide. And frankly, I'm tired of making this decision, so I agree with the majority on this one. What do you say? Light countertops or dark countertops?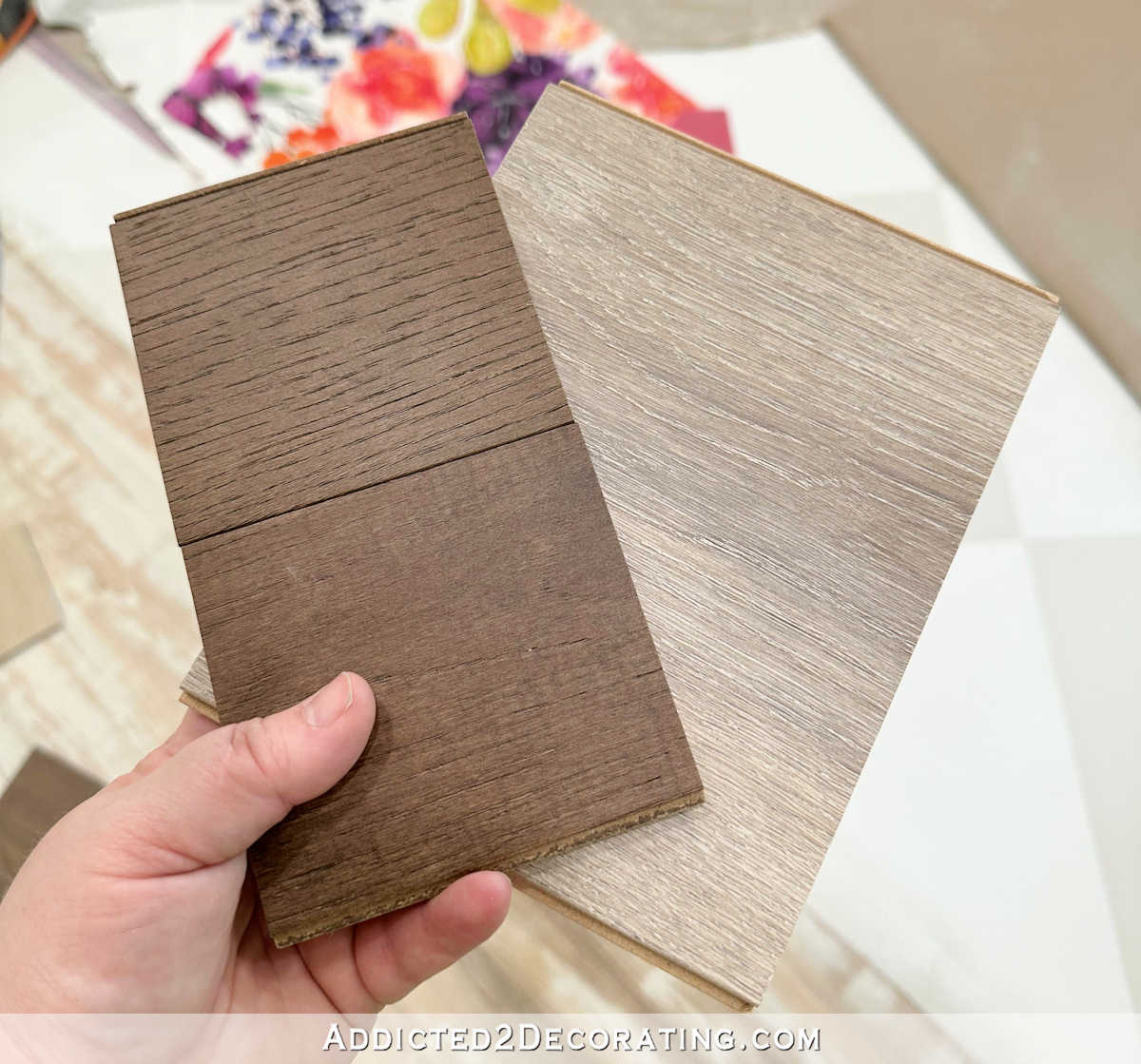 I'm glad I don't have to think about it anymore. 😀 It's up to you!
In Addicted 2 Decorating, I share my DIY and decorating journey of modifying and decorating a 1948 Fixer upper my husband Matt and I purchased in 2013. Matt does most of her work because she has MS and she cannot do physical labor. I do my own housework. You can learn more about me here.