We have a recently completed house about 3 miles from our house and I love it. To be honest, I can't even remember what was there before. Is this a brand new house? Has the house been there before and has just been completely renovated? I have no idea. But this new (or newly renovated) home is really beautiful. The first thing that catches my eye every time I drive by is his two beautiful spiraling cedar topiaries in the front flower garden.
I love spiral topiaries, so I would like to have one in my front flower bed. But I've had spiral topiaries before as well, but I couldn't (or didn't want to) keep up with them. It has to be trimmed to keep it in shape, but I didn't like it. But what bothered me most about them was that one was bigger than the other. So while it initially looked the same when it was next to my front door, it eventually lost that beautiful, symmetrical look. and i killed them. (Not on purpose, I promise!)
And what if you have two topiaries on either side of your front door and one of them dies? It seems that both should be replaced if you want to keep the symmetrical look.
I'm not the kind of person who gets really annoyed by fake plants. I use a mix of fake and real plants in my home. Heh, I use a mix of real and fakes outside my home, in and around my front door.
The two tall cedars on either side of the front steps are fake. I think it's great quality. If you fluff or manipulate the branches a bit, it looks pretty real to me. (And now it's on sale for $38!)
But I've always drawn the line between potted plants and fake plants. I think it's fine if it's potted. But would you actually plant them in the ground? Outside? in the front yard? I know others are doing it too. I saw their photo in the customer review section of the product on Amazon. And what do you know? It looks great too!
In the past, I have considered the possibility of installing artificial grass in the front yard of my house. I finally decided that I didn't want to be the one in central Texas who had a perfectly green garden in the dead of winter and everyone else's lawns looked dormant and brown. bottom. Nothing makes it more obvious that this lawn is fake.
I've also considered using fake plants in the flower box I'm planning to eventually make for the front window of my house (yes, I still plan to make one). I imagine the studio might end up looking like this, but the stairs to the studio door will not be red brick, but will be white and stained wood just like the front staircase…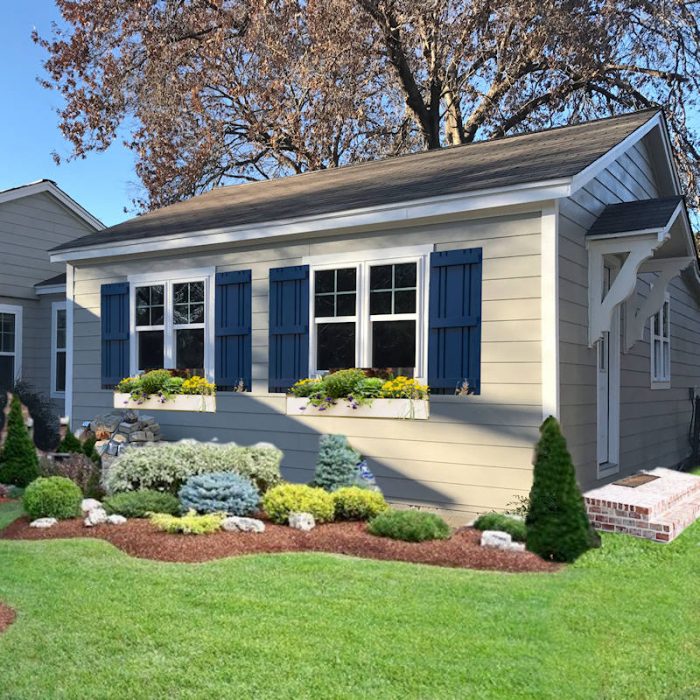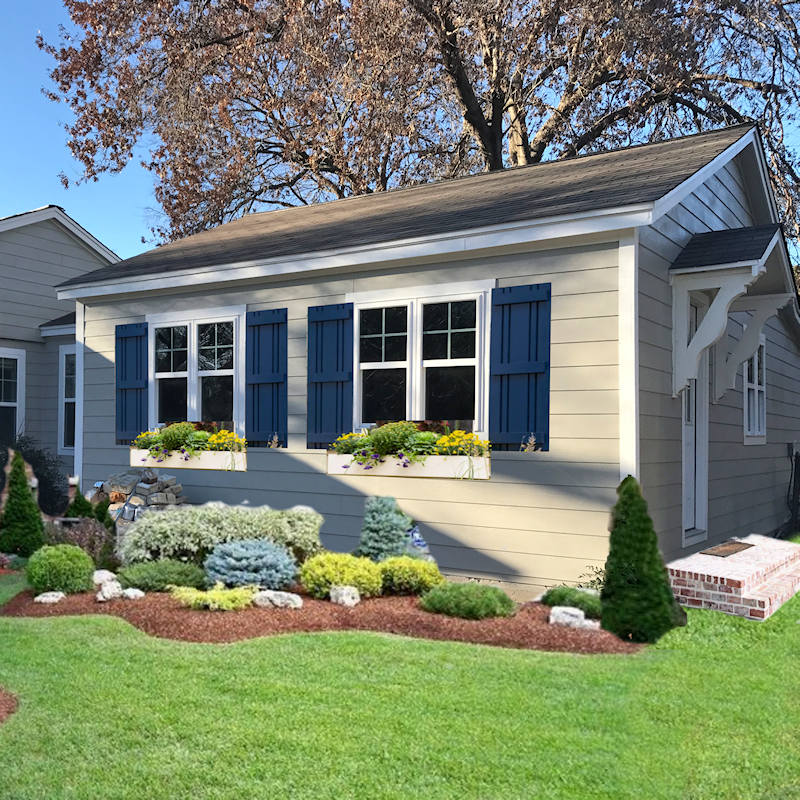 To be honest, there's nothing wrong with mixing fake greenery with real flowers if you want. However, there are some wonderful green plants that are easy to grow (potato vines, etc.) so the need for fake greens may disappear for me. Even with fake greens in them, there's not much of a hurdle to using fake plants in pots or fake plants in window boxes. It's basically the same thing.
But what about actually planting fake plants in the ground of your flower bed? I'm not sure about that. All I know is that no matter what kind of topiary it is, it has to be fake. And I really want my own topiary because I drive by the house almost every day and see the beautiful topiary. Mixed with real plants and colorful annuals, I think fakes might work too.
I couldn't find a spiral topiary that looked real, But I found these ball topiaries Wondering whether to buy or not. Their reviews are high, and while the product photos just didn't convince me (they're all highly photoshopped and too perfect to be real), the customer photos are great. I can see it. But none of them show a topiary planted in the ground.
I think I'll give it a try. If it doesn't do well in the front bed, you can always put it in a planter and move it to the back once you finally have a deck behind it.
Have you tried fake topiary (or other "evergreen" plants) in your front flower bed? do you have have you tried it? These particular topiaries are labeled for indoor or outdoor use and the listing says they can be planted in the ground. Even though it's plastic, I doubt it will last forever, especially in the Texas sun and heat. So, while it may last a long time, you can expect it to eventually fade and need to be replaced. If you've done it, I'd love to know how long it lasted.
In Addicted 2 Decorating, I share my DIY and decorating journey of modifying and decorating a 1948 Fixer upper that my husband Matt and I purchased in 2013. Matt does most of her work because she has MS and she cannot do physical labor. I do my own housework. You can learn more about me here.