During a recent visit to a teak furniture supplier in East Java, I had the opportunity to observe and document the process of storing and creating reclaimed teak furniture. Discarded teak roots are reclaimed and regenerated to create unique designs for small accessories, lamps, side tables, consoles and coffee tables.
These raw materials are SVLK standardIn partnership with the Indonesian government and demanded by international buyers, the SVLK approach offers transparency, thereby creating trust and environmental benefits for both people and the planet.
teak wood (Tectona Grandis) is one of the most robust and environmentally friendly materials in the world. It is native to Southeast Asia and grows up to 130 feet tall. This species is known for its strength and higher oil content, and resistance to water, termites, fungi, and other pests. Due to its high oil content, teak also has the highest rot resistance compared to other wood species. Also, it does not decompose when in contact with metal. These qualities make it an ideal material for a wide variety of constructions including boats, yachts, homes and high-end indoor and outdoor furniture. 40-80 year old teak trees provide the best timber for construction.
sorting and storage
The factory sorts the reclaimed wood by type (reclaimed wood, twigs, roots, blocks), thickness and length (short, long, board). Then stack them or place them side by side in an organized storage space. Each space is named and sized according to its dimensions and type.
Sorting and storage of recycled wood
Quality Control Process – Moisture Content Determination
All wood materials must have an acceptable moisture content (MCP) to meet industry standards and, importantly, to prevent fungus and mold growth. The moisture content (MC) of wood should be between 8-15% for a balanced distribution of moisture in the inner and outer layers. Once the desired coverage level is achieved, it increases strength and durability making it ideal for indoor and outdoor furniture.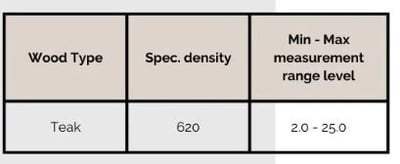 Specification of permissible moisture content
For reclaimed wood, the moisture content is measured and further dried using two air drying methods:
first step – A natural drying process where roots and logs are lined up and dried in the sun. This moisture removal process takes between 4 and 12 weeks, depending on the size and condition of the material. Additionally, the raw material must reach a moisture content of 20-30% before proceeding to the next step.
second stage ・Use of heating kiln. Recycled materials are stacked and aligned in a steam heated oven to reduce moisture content. For thicker materials such as wood roots and blocks, the acceptable range for MC is 15-18%. Depending on the condition and thickness of the material, this kiln drying process can take 2-3 weeks.
The assembly process emphasizes craftsmanship and detail as pieces of wood are collected, assembled by size, then cut and shaped to produce the final product.
– Arrange the branches and twigs to create the final product layout. ※photo1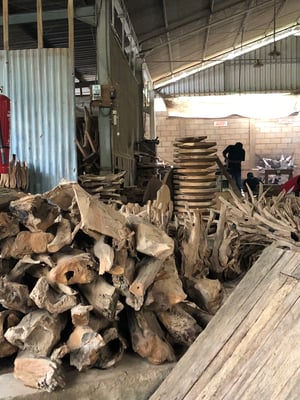 ※photo1
– The sharp, rough texture is sanded and polished to reveal the beauty of the wood grain and accentuate its natural uniqueness. *Photo 2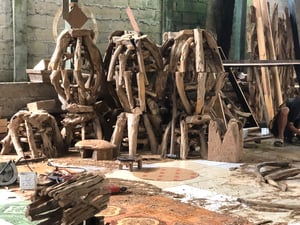 *Photo 2
A craftsman molds the material and molds it to the specifications and frame of the specific product. *Photo 3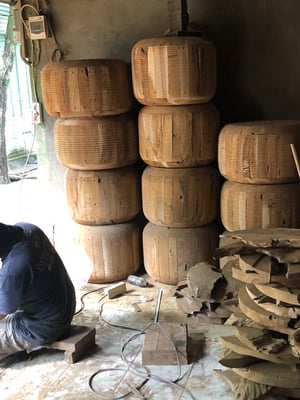 *Photo 3
-Skilled craftsmen work on raw materials by combining and designing disjointed materials to produce desired results. *Photo 4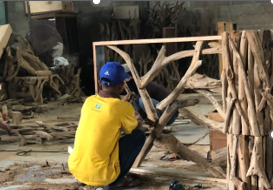 *Photo 4
-In many products, metal is utilized to make the tabletop or supporting base/legs to complete the final product.Therefore, the metal material goes through an anti-rust coating treatment and a kiln drying process. *Pictures 5-6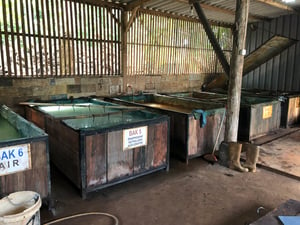 *Photo 5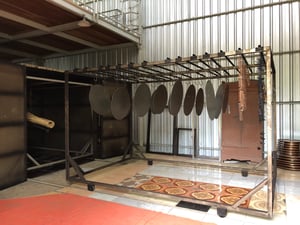 *Photo 6
-Additional polishing and polishing are done to ensure the product meets design and safety requirements. *Photo 7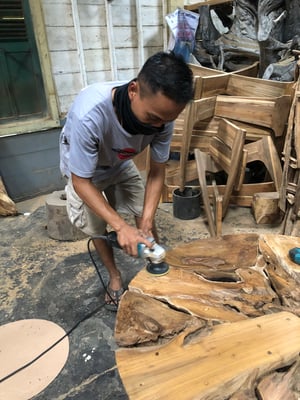 *Photo 7
-For this particular item, once the base is installed, an additional paint finish is applied using coated steel paint for a rust-proof effect. The final product is complete and he is ready to proceed to QC for final approval. *Photo 8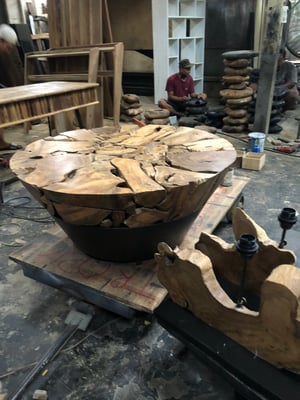 *Photo 8
What's more, the unique elements that recycled furniture offers can last for years if teak furniture is properly cared for, and some say it's naturally made for generations to come. Caring for wood furniture is easy. The main thing you need to do is dust him with a soft damp cloth once a week or as needed.For additional care, please apply teak wood oil every 3 months. Also, be aware that teak furniture exposed to direct sunlight will change its patina over time from warm honey to silvery gray.
Browse our collection of unique artisan pieces made from recycled materials and reclaimed wood.go to www.newpacificdirect.com Or click the button below.