This post may contain affiliate links.Please read our disclosure policy here
The queen bee of our kitchen, aka our new blue ilve range We call her Beatrix, and she finally has her rightful place in the new kitchen. There is still some finishing work to do such as paint touch-ups, caulking around the marble, woodwork and baseboards. Of course, I haven't even cleaned or styled the kitchen yet, but take a look. I'm sure you all want to meet her before we reveal all about her kitchen :).
Funny story about Beatrix…I was stunned when the contractor took her out of the box and prepped her for the kitchen (she's been in the garage since the fall!). Beatrix was wearing brass heels! Ha! She wasn't expecting her fancy legs at all and I ended up laughing and laughing. I didn't place an order, but what more could Queen Beatrix expect? She was dressed like a queen!
As style folks say, shoes define an outfit, and now I can't imagine her looking any better. So she was stunned by her fancy feet so I changed her original plan for her baseboard a bit to make sure her nice heels look :).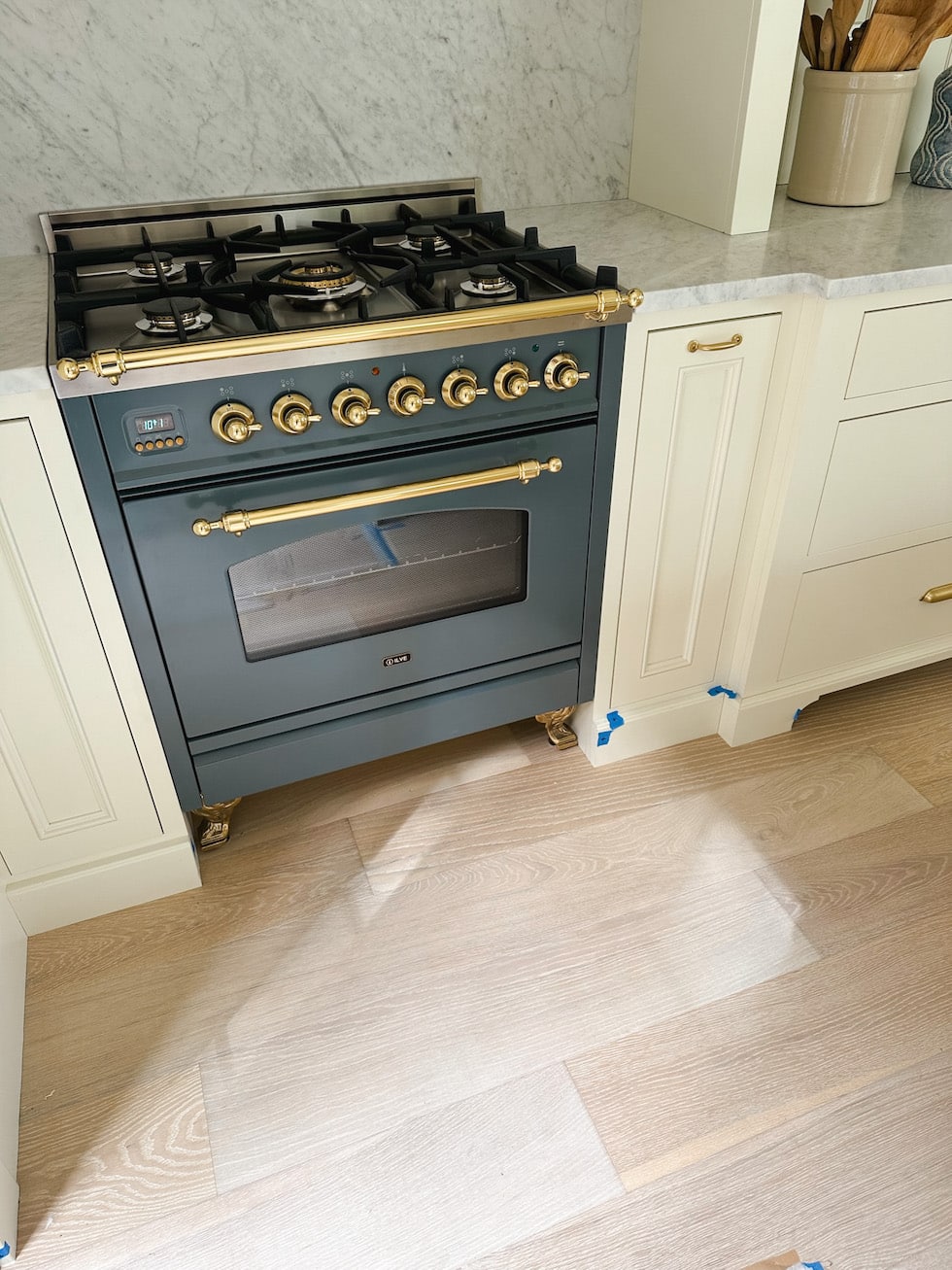 By the way, if you missed the story about why her name is Beatrix, you can find it in this post: Adding Character to Your Kitchen Renovation: The Story of a New Range and Faucet.
Beatrix is ​​a blue grey/grey Ilve Nostalgie 30 inch duel fuel series. (this is 30 inches). I ordered directly from a consumer electronics store that had the desired color and size in stock. I didn't want to risk delays or cancellations due to supply chain issues over the last few years.
We thought a lot about what range to choose, what size to choose, what finish to choose, and this was the right choice for us. This was the range I wanted from the start, but the fact that whenever I make a big purchase I consider all options, consider all price points, read reviews and consider each possibility Make sure. 🙂 It's exhausting to think a lot, but I want to be confident that I made the best choice considering our needs and circumstances. As I kept coming back to this range, I was convinced she would be a perfect fit for us.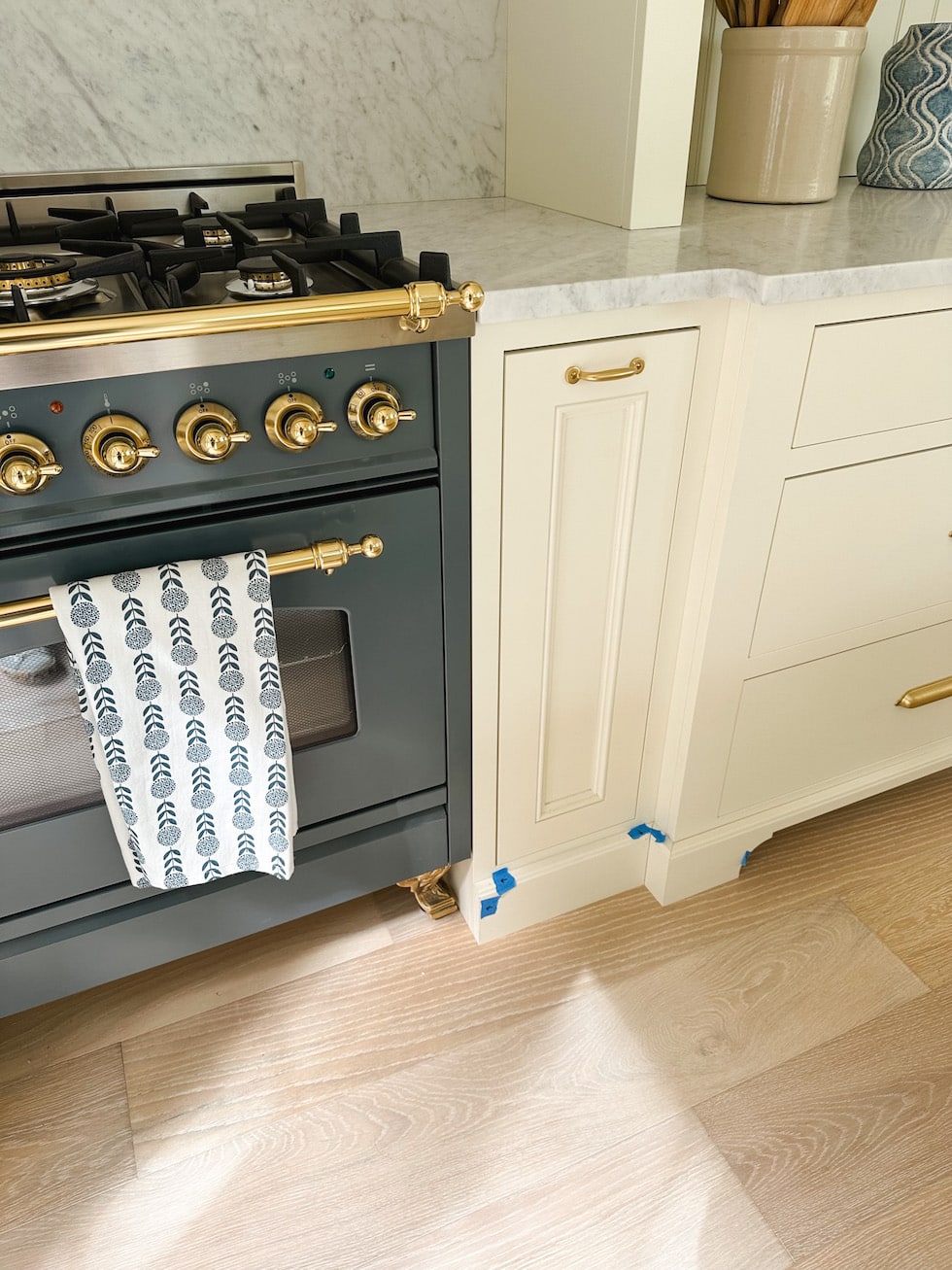 We love Beatrix! She hasn't cooked with her yet, so I'll report back when it's done so I can share more. So far I've tested the hob and oven and all the knobs and everything seems to work great. That's a really nice range. We look forward to starting cooking in the kitchen soon. We will be sharing about that soon.
The decisions you have to make in a renovation project can be daunting. I don't know if I can handle the many decisions required to build a new house. But now that each piece comes to life and I can imagine how everything is decorated, I couldn't be happier. Thinking too much can also be rewarding :).
I'll share more about why I chose each detail in future posts, but if you have any questions so far, feel free to ask them in the comments.
I am having fun collecting cute things for my new kitchen shelves as I am waiting for the final touches on the renovation. I'm so excited to add more plates to my new plate rack :).
Related article:
11 things I bought for my kitchen (decoration and organization)
You can see all my kitchen remodeling (+ small cottage) posts here