Since the last update on Dad and Mom was in March, it's time for another update. Time flies so fast these days, it's been about two years since they received life support, and their memory care has sped up. October 1st will be two years since they moved in. I wrote all about our journey, so if you want to catch up on everything, visit here to see all the posts.
Dad and mom updates
Since March, my dad and mom have had some health issues, so I'll share that as well. With two 95-year-olds and a father turning 96 soon this month, health concerns are inevitable. We don't know what's around the next corner, but we trust God to do what's best for them.
In April we celebrated Easter with my father and mother and had our Easter lunch there. Brought Dad from Memory Care for a meal. He enjoys every meal (even if it's not the best) and makes the most of his food.
we had a good visit. We're glad that Dogwood is making an effort to bring families together on special occasions. It becomes a festive time for them, something away from the ordinary. I visit them both at least twice a week.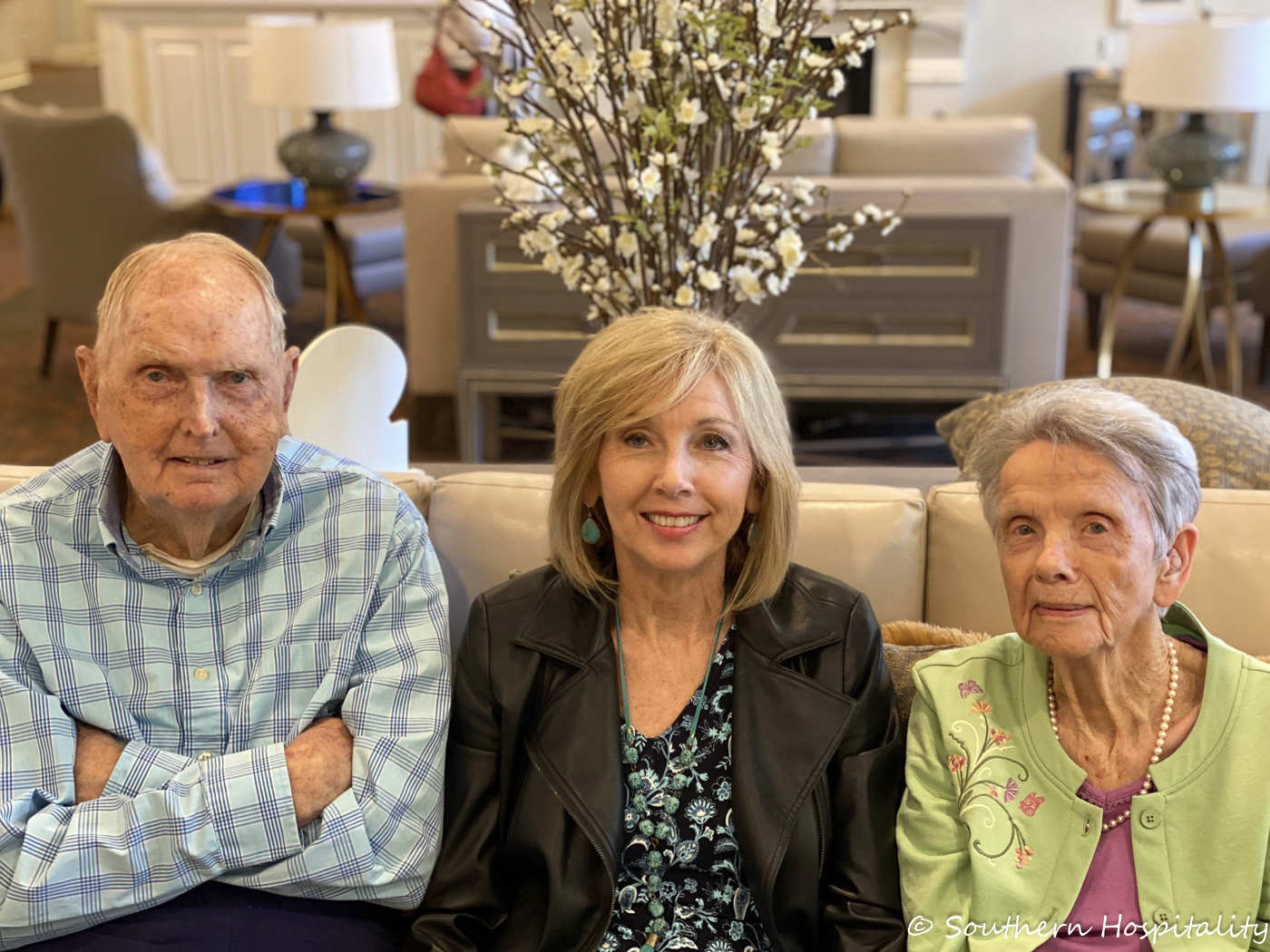 My father also has dementia. He continues to struggle to take a shower, which is not fun for the custodians I know, but they treat him well. A few months ago he vomited a little after breakfast and was so confused he couldn't speak much, recently he was terrified. He didn't know what was going on, so he called an ambulance and took him to the hospital. I was warned and headed to the hospital as soon as I got there. They took him to the ER, but he said they hadn't found anything that would require him to be hospitalized, so I took him to Dogwood later that afternoon, just in time for dinner. I took him home. I was a little scared and worried he might have had a minor stroke or a TIA, but the hospital didn't seem to find it and released him. Since then he has been fine.
In my last post, I mentioned that my father is in hospice due to a heart condition. We were glad that this meant that more nurses and care staff were taking care of him during his weekly visits, and they also covered some of his medication and personal supplies. Sadly, however, he was discharged from hospice at the end of May. Because his health had not deteriorated significantly in the six months since he was admitted to hospice, and that was a requirement to remain in hospice. So it's a blessing, yes, but I'm glad he got the special attention.
Dad talks happily when Mark comes, so that's good too. Dad doesn't have long conversations anymore. We're trying to get him to talk, but it's getting harder these days. He doesn't remember much about people or places anymore, but he sometimes surprises us by telling us about his past. Thankfully he no longer mentions the house or the car.
As I mentioned earlier, Mark and I went on a cruise in April and May. My mom wasn't too happy about me leaving for three weeks, but she made it through. Unfortunately for her, her mother got shingles a week before she left for the cruise and I took her to the doctor just before her departure. She was in pain, so I had her prescribed painkillers while I was away, and she did well. She got into a pretty bad case that took a while to resolve. There wasn't much we could do for her. She just needed to be in her room and rest. So she did. She was able to have her meals delivered to her room (although it wasn't all smooth sailing in her nursing home either). She was in pretty good spirits when we returned just before her Mother's Day weekend.
Sister Renee and husband Bruce, as well as Lauren, Parker and Iris, are also back for Mother's Day. She left her baby Alex at her home. It's easier. Their families also lead busy lives and often go on family trips. We picked up and brought food when Renee was here and Mom and Dad are enjoying it too. I do the same on a regular basis because my mom got tired of the nursing home food. It's definitely not what she cooks.
Found my new favorite local comfort food restaurant nearby. Doug's Place in Emerson is a staple around here, but I forgot about it and never tried it, always lamenting that there is no good meat or meat around here. But Doug's definitely fits the bill and is a great country restaurant. I go there often now and have brought my mom and dad several times. Dogwood also goes there sometimes and I took her mother and one of her friends. So that was my introduction. I couldn't go there even though I knew about it for years. It's now one of my favorite places! It's as close to my mom's home cooking as I can find.
Here are some of the things we've been doing with Mom and Dad. Renee is back in Louisiana after staying for a few days, so I am in charge of most of his father and mother's care. I pay for most of her living expenses and take her mother to the doctor when necessary. We pretty much decided we weren't going to drag him into primary care for testing unless he was ill. He will be 96 soon, so we will miss him if God decides to take him in, but we know he lived such a long and productive life.
We still miss his garden and the home-grown tomatoes we all enjoyed every summer. I would die right now for those tomatoes!
Being outside is one of my father's favorite things to do, so we go out as often as the weather permits. This year, it was cooler than usual from spring to early summer, but the temperature finally rose until the mid-1990s, and summer is in full swing around here. As you can see, he still wears flannel because he has a lot of it in his closet. He's a cold person anyway, so they keep him in that shirt, but he doesn't complain too much.
I always take pictures when I visit and I try to take as many pictures as possible because you never know when things will change or someone will get sick or worse. I want them to be as comfortable and happy as possible at this stage. Moving out of the house and living with care can be frustrating for both of us at times, but it's still the best place for them. I am grateful that we have nursing homes. It's not perfect, but it's a great alternative for seniors who can no longer live at home.
Dogwood has gained experience in less than two years since its third general manager joined the company, so I'm a little apprehensive, but I hope things settle down. They seem to be short staffed, but they are very supportive, and my mother says it's worse on weekends. The dining room service on weekends is very lacking. A resident meeting has been held and complaints have been filed along the way, so I hope that the situation will improve over time. I know none of this is perfect, but I'm paying so much money to live here that it's hard to watch these issues.
We were lucky with the weather this year and celebrated Mother's Day at home. Lauren stayed home with her two girls, and Bruce's mother, Doris, joined in the celebration as usual.
We eased ourselves in and ordered the chicken salad chickpeas for lunch and it was delicious. This was a great way to celebrate and everyone enjoyed it, including the men. We ordered coconut cake and strawberry cake, which were also well received.
It was a beautiful afternoon!
Nothing special after Mother's Day. I visit my father and mother and listen to their needs.
Mark and I brought them food and then sat outside to visit.
I took pictures of the cruise for my dad and mom to see. I made a book about Hawaii and Alaska.
It's nice to see them smiling.
Mark and I went to Father's Day dinner when Dogwood planned a Father's Day dinner for the family. We are happy to participate in such celebrations.
Even if you have no idea that today is Father's Day, honor your father. He was very pleased with the card I gave him.
Afterwards we sat outside and visited. I'm wearing glasses because I'm waiting for a cataract surgery appointment this month. I have been using contacts for 50 years and have to wear glasses for weeks. I hope that things will go smoothly, so I will write an article when I consult with you.
The father and mother here have a very good look. We didn't expect her situation to get any worse after this.
I gave him a new shirt and pants for Father's Day and he was very grateful. I'm glad I can still make him smile. He always appreciates what you do for him.
I thought my mother was recovering well from her shingles and was starting to feel better, but soon after that she started feeling sick. The following week she complained of her shortness of breath and other symptoms. Her doctor suggested going to the emergency room or emergency room, so I started with emergency care. They did a few scans and EKGs on her and recommended she go to the emergency room, so I did. We arrived late Thursday afternoon so she ended up in the hospital and she stayed there for two nights. I stayed with her. The next day she was diagnosed with pneumonia and antibiotics and other treatments were started.
She hated being in the hospital, but luckily her condition wasn't too bad and the hospital decided it wasn't necessary to keep her in after the second day, so they released her early that Saturday morning. I took her back to Dogwood.
A week later, she's still recovering and trying to get her strength back through all this. It hurts me so much to see them go through illness and not be able to improve their situation. These things should naturally subside, but it's even harder for the 95-year-old to get over her things. We will have lunch by today to see both.
We thank her for overcoming these difficulties and wish her well. It's really sad to see her in a bad mood. Her last week I took her father to see her because she used to stay in her room. He always felt bad for her when she was not doing well and he has prayed for her many times. It's so sweet! They are still very devoted to each other and want the best for each other. As I said earlier, I don't know what the Lord has in mind, but when the time comes, I pray that the transition will be painless and easy for both of them. Mom said over and over that she was ready to go. I think it's hard to keep running with a weakened body. Some days her back issues and other issues really haunt her, but she stays true to her conviction and determination. Getting old and facing death is something no one wants to think about, but everyone faces the same thing. For me now, it's a close, personal relationship with my parents. We know they won't last forever and we intend to let them go when the time is right. I just hope God is merciful to both of them and that they are loyal to Him. If it were up to me, we would both choose an instant painless death. No lingering or pain. We cannot dictate these things, so we will see what God thinks. We are grateful to them for their longevity.
This is the update for now. There were ups and downs, so I hope that there will be more UP days in the future.
Related
Don't miss the post and join my list!