Kristie Withers, founder of luxury children's furniture brand Incy Interiors, knows the situation, and talks about trends for 2023.
Children's furniture has undergone a remarkable transformation in recent years, evolving from traditional design to a realm of creativity and style. Luxury children's furniture not only provides a functional element, but also serves as an expression of individuality and imagination.
color is back
Gone are the days when muted tones and neutral colors dominated children's furniture. The trend toward bright colors is taking the world of designer children's furniture by storm. Designers incorporate bold and playful colors into their work, transforming children's rooms and bedrooms into vibrant and stimulating spaces. From cheerful yellows to vibrant blues, these captivating color palettes inspire a sense of joy and imagination and enhance the overall aesthetic appeal of children's furniture.
curved edges of furniture
The days of sharp corners and rigid lines are giving way to softer, more organic approaches. Curved edges are making a strong comeback in luxury children's furniture, offering a safer and more visually appealing option. Rounded cribs, gently curved chairs and smooth-edged tables provide an elegant atmosphere while ensuring a child-friendly environment. These soft contours not only create a calming atmosphere, but also add a touch of sophistication to your space.
multipurpose furniture
Multipurpose furniture has emerged as a prominent trend in children's rooms. With space constraints and a growing need for versatility, versatile furniture offers practical solutions that maximize function and value. These innovative products often combine multiple features, such as beds with built-in storage compartments, desks that transform into play tables, and modular seating units that offer both seating and storage options. . By investing in multipurpose furniture, parents can optimize available space, reduce the need for additional purchases, and create a multifunctional environment that adapts to a child's changing needs. This trend is fully in line with the economic climate, providing cost-effective and space-saving solutions while ensuring that children have comfortable and inviting spaces to learn, play and rest.
midcentury furniture
The revival of mid-century design is not limited to adult spaces, but also permeates the realm of luxury children's furniture. Clean lines, organic shapes and minimalist aesthetics define this trend, offering a harmonious blend of style and functionality. Mid-century inspired cribs, dressers and storage units combine simplicity with timeless elegance and sophistication.
statement artwork
Children's furniture is no longer limited to purely functional items. A canvas for creativity and self-expression. The integration of statement artwork such as hand-drawn illustrations, graphic prints and intricate murals is becoming increasingly popular. These artworks inject personality, inspire the imagination, and create focal points that spark visual interest. Whether it's a captivating mural on a wall or a vibrant artwork adorning a dresser, statement pieces transform a child's space into an enchanting realm.
The world of fine children's furniture has undergone a remarkable evolution, embracing trends that incorporate color, organic shapes, natural materials and artistic expression. By combining functionality and beauty, designers create furniture that captures the imagination of both children and parents. As trends continue to evolve, our fine children's furniture blends style, quality and playfulness in a way that promises to provide an environment where little ones can grow, learn and dream.
Christy Withers to speak at this year's conference online retailer conferenceTomorrow and Thursday (19th and 20th July 2023) Australia's largest and unique e-commerce industry conference event at ICC Sydney.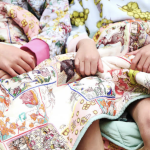 May Gibbs x Kip&Co comeback with new keepsakes for kids
The May Gibbs x Kip&Co collaboration returns this month with limited releases of bedding and apparel for kids and babies. feature…