This post may contain affiliate links.Please read our disclosure policy here
Inspire your home with this summer dining room mood board in shades of green, white and blue.
Monday isn't always the most exciting day of the week, nor is it the day you look forward to after a fun-filled weekend, but we hope to change that with our Monday mood boards! I hope you will give me the ration.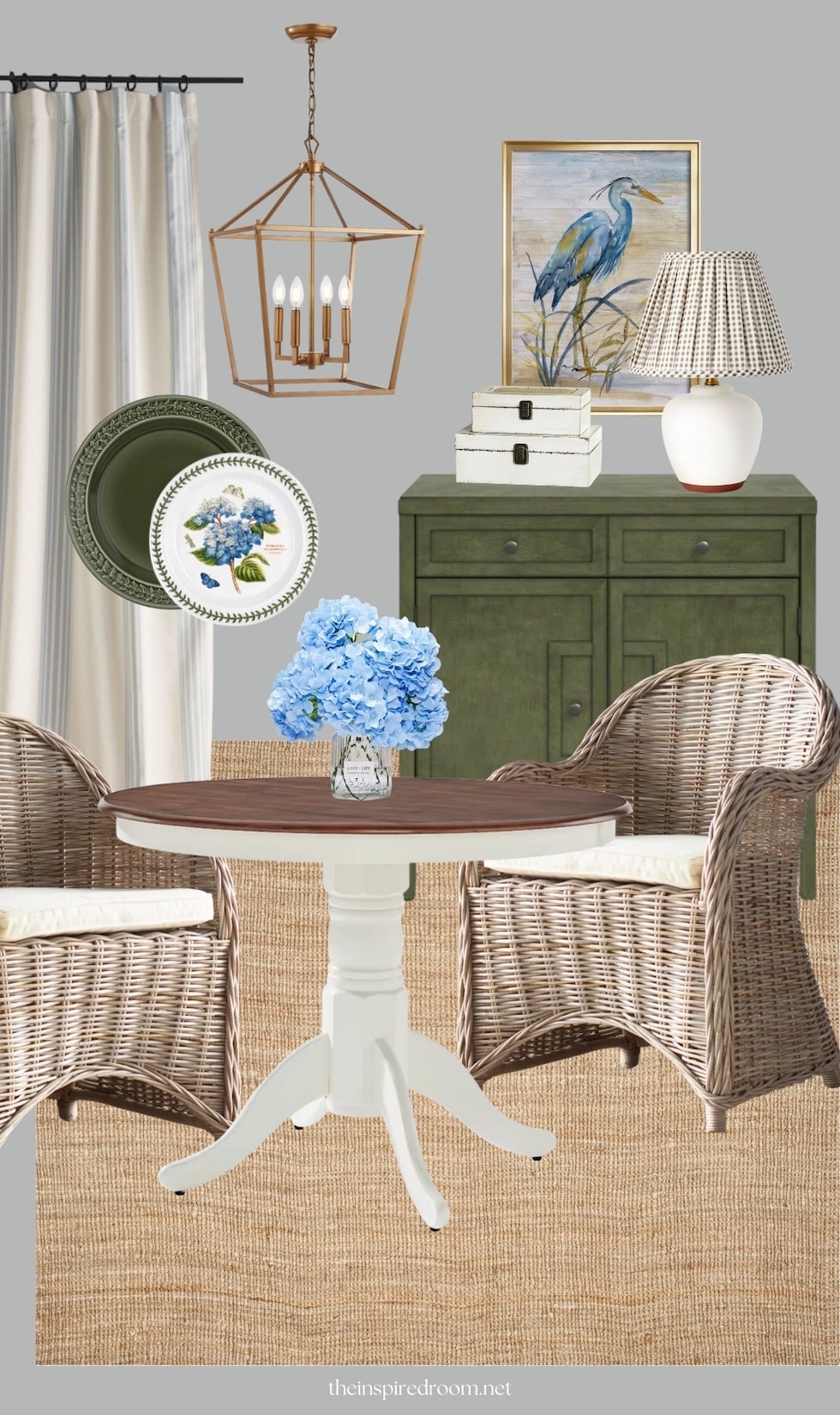 Tips for bringing this look into your own home:
How would you describe the atmosphere of this room? To me, it's very homely and cheerful. Can you imagine being in this room on a beautiful day with the sun shining and soft music playing in the background? Imagine sitting at the table with your friends eating a delicious lunch. I love it.
Layer different textures to create a cozy look like this one.Here, the versatile jute rug, chunky wicker chair, pleated lamp shadedire on green cabinet, wood table topseagrass lining top plain wood box with lid, more. Texture is an important decorative element that every room needs, but how you layer them can change the feel of the room.
All the design pieces in this room are classic and will stand the test of time.Deep olive green pop cupboard It offers a striking color contrast that will be beautiful all year round. Adding greenery to a room always brings it to life.
of brass lantern pendant Add warmth (as opposed to using a cool metal such as chrome, for example). I love candle bulbs. Adding a dimmer makes this room feel even more inviting at dinnertime!
Adorable gingham pleated lampshade Accent lamps add light to dark and boring corners at night.
of heron artwork It speaks to my coastal loving heart, but the art is easily interchangeable to suit any design style!
subtle striped curtains Add a little bit of pattern and interest without overwhelming the room. We love this simple look in the summer, but you can swap out the curtain panels for a different look in the winter (moorier colors, bolder patterns, cozy velvet, etc… endless possibilities). possibility!).
This would also be a super fun room to set up different tablescapes! I love the look this spring/summer with these solid green plate Layered with a hydrangea salad plate (I send it with other flowers and a set). I recently shared a fun spring tablescape I set up in this post!
simple vase blue hydrangea It's the perfect nod to summer (that flower Mood boards are faux so you can enjoy them for a long time and use them for years. (Here's a photo of the house.)
The source link for the mood board is below.You can use these mood boards to recreate the overall look or pick your favorite elements to add your own sense of style.For future inspiration!


---
striped linen/cotton curtains (color option)
fake blue hydrangea (I have these in several colors, see more of my pics in this post)
wood top pedestal dining table
botanical plate (Set of 6 with different flowers)
Table lamp with gingham pleated shade
jute rug (About 20,000 great reviews!)
Box with white wood lid with seaweed top (I have these!)
Enjoying mood boards? Learn more here. @theinspiredroomstyle Find more mood boards and decorations on Instagram.
Related:
Cozy and charming dining room – see what it looks like
dining room mood board with simple swap
See all our dining room inspiration in our dining room gallery here