Yesterday I shared three ideas for creating a super long countertop that spans a 19.5 foot wall in my studio. And you guys had some very creative ideas for me. Many ideas ran through my mind, and I finally decided to go with hardwood floors for the countertops.
There were several reasons for choosing this option. First, I've done it before and I know it works. We used 3/4 inch red oak hardwood floors for the walk-in pantry countertops.
So no guesswork or trial and error is required with this one. I've already done that and the results have been great and I'm keeping an old blog post for reference so I can refresh my memory about the process. You can see how we made these countertops here.
The second reason I chose to use hardwood floors as countertops is because it gives me a durable solid wood surface for a fraction of the cost of butcher block. For his studio countertops, which he'll probably use unfinished maple wood, he's priced at about $6.30 per square foot. It's about $283.50 for a 19.5 foot long countertop, but you'll need to buy plywood for the subfloor. But still, we believe a 19.5-foot wood countertop costs less than $500.
The third reason is obvious. No straight seams or joints. This was my main concern when using butcher block or sheet laminate. It doesn't matter if you have a single seam/joint in the middle or two offset seams/joints. I just wanted something to appear as a continuous solid surface.
The final reason is that it can be built in place. There are several countertop options that must be built elsewhere and then installed in place. An example is the butcher block style countertop I made for my hallway bathroom.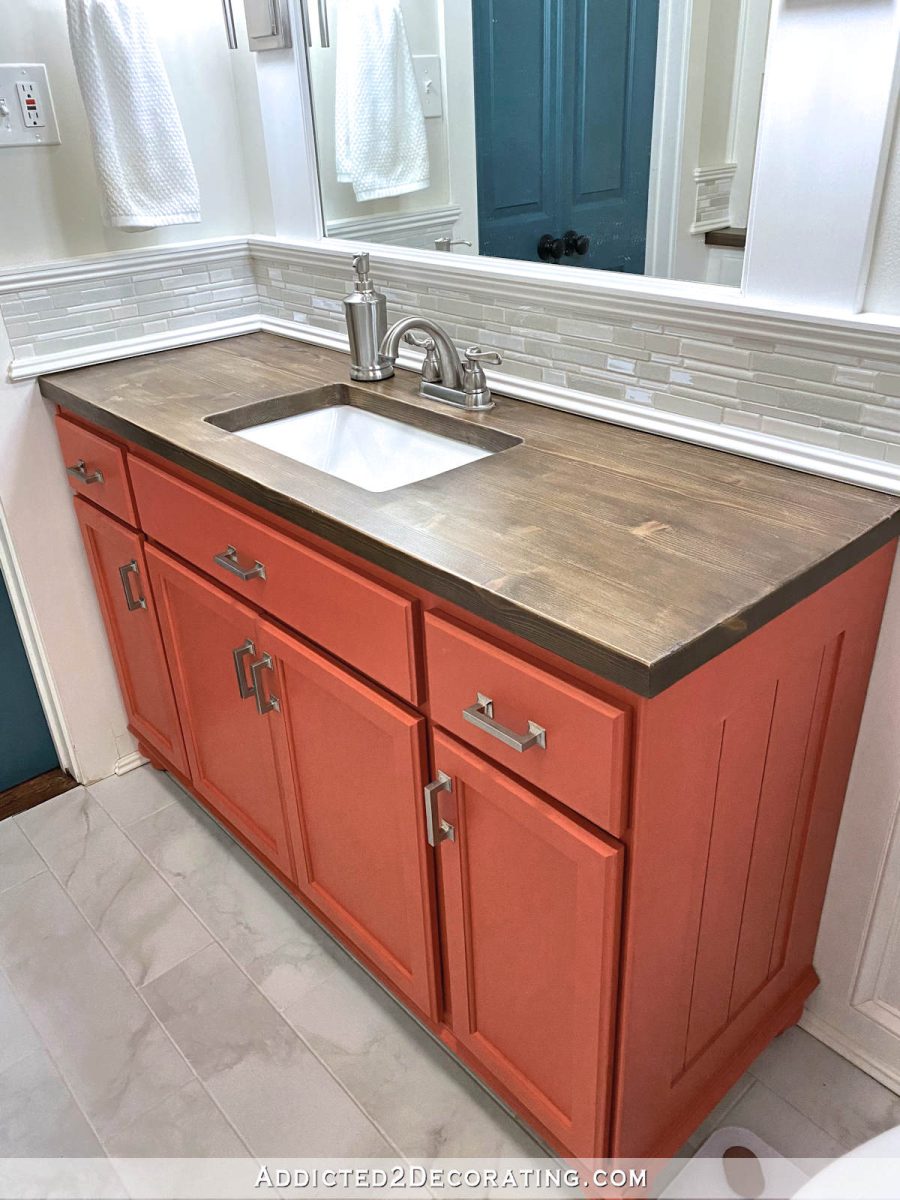 Its countertop is made from solid pine 2 x 3 lumber that is glued together, screwed together and cut to size. It had to be assembled upside down (using the front porch as a workbench) and once assembled it was flipped over, cut to size and brought indoors to set in place.
Now imagine doing it with a 6 foot long countertop. 😀 Well, that's impossible.
So using this method to DIY a butcher block countertop yourself was never an option for the studio. I needed something that could be built in place and didn't have to be lifted, carried or put in place.
The winning idea, and one with which I feel most confident and at ease, is to use hardwood floors over a plywood subfloor to build the countertops. And now that it's decided, I'm really looking forward to it. You just need to decide on the specific wood type to use. I certainly don't want to use red oak. I've been enjoying red oak ever since the hardwood floors in the house are red oak and the pantry countertops are also red oak. I had to bleach the wood to remove the red/pink tint in order to get the countertop to its original color. By choosing wood that doesn't have a red or pink tint, we want to be able to skip that step. I think I narrowed it down to white oak and maple.
In other news, I'm finally starting to paint the checkerboard floor today. Everything is ready, recorded and ready. I'm hoping to actually finish this part of the floor by Monday so I can show it to you.
It's been a long time coming, but I'm so excited to finally see my vision come to life.