Yesterday's post about four color options for a studio back door wall didn't clarify anything for me. (If you missed this post and didn't see he 4 color options, you can check it out here.) There was a clear winner. The crowd favorite was definitely the bear leek.
And I was fine with that. I was getting ready to paint the walls with bare leeks…Until then I walked into the room yesterday around 6pm and looked at the sample colors on the wall under the natural light of that time of day. I immediately declined. The green, which looked so beautiful and unmistakably green in the brightest hours of the day, had turned into a dark, murky brownish green.I know that kind of green is very popular now, but it's not popular in my house or in my eyes. Jeez.
That's too bad. All the greens are out because the other greens weren't that good. And since I'm obviously not 100% convinced by him with the vintage velvet color either, I decided to start making a mockup based on the suggestions I found in the comments on yesterday's post. By the way, do you have any suggestions? 😀
We couldn't mock up all of them. In fact, many of the suggestions were the same or variations on the theme. So I will share what I like.
Many suggested painting the walls the color of the cabinets. I really like this one! However, I think that it might end up being too good. Alternatively, you can balance the room by painting the back door wall and the cabinets on the other side of the room the same color. It's hard for me to tell. too much? Or is it the perfect balance?
Several people suggested painting the walls a lighter version than the cabinet color. It would be like this…
And some people suggested darker cabinets. I actually love this.
So many suggested colors in the gold, yellow-green and yuzu strains. This is greenish yellow…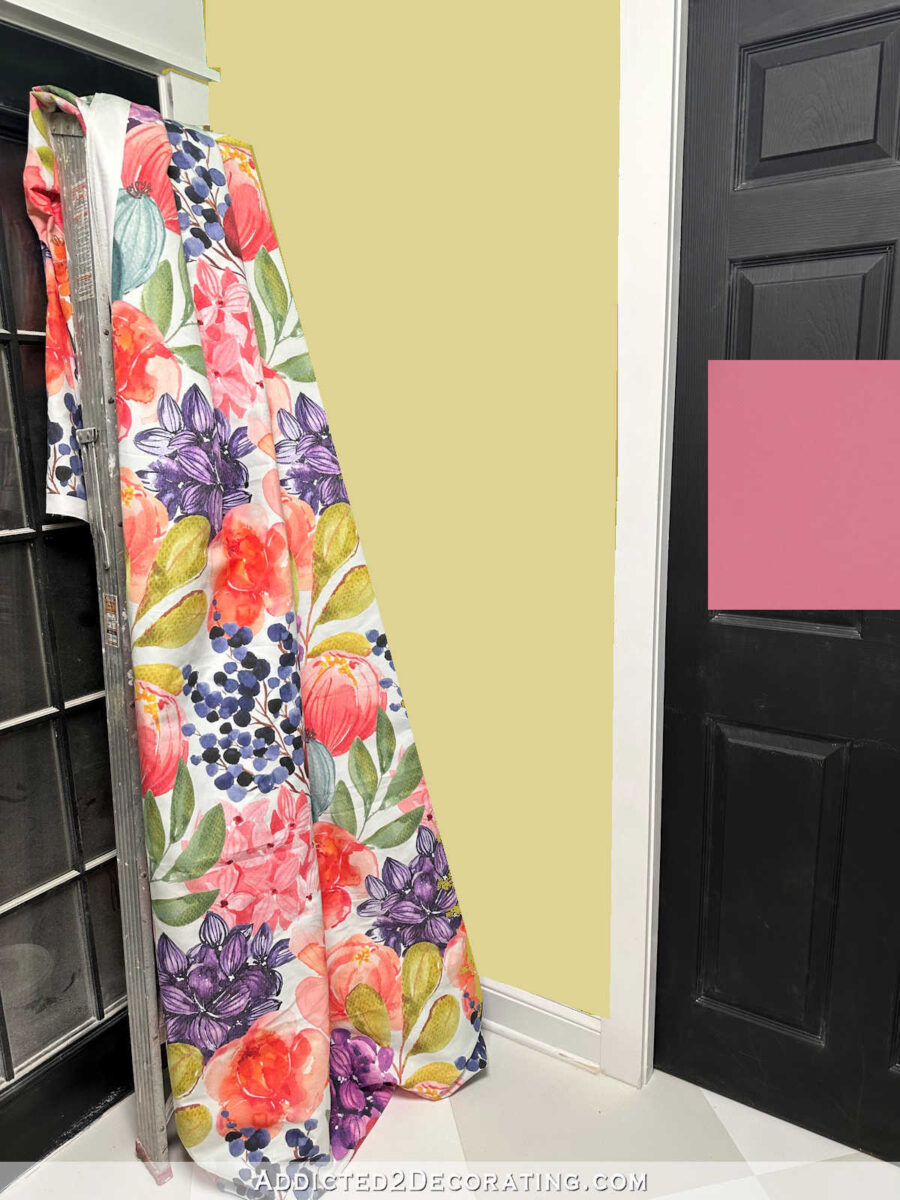 This one is more buttery yellow…
And even more real gold…
And this one is more yuzu-ish…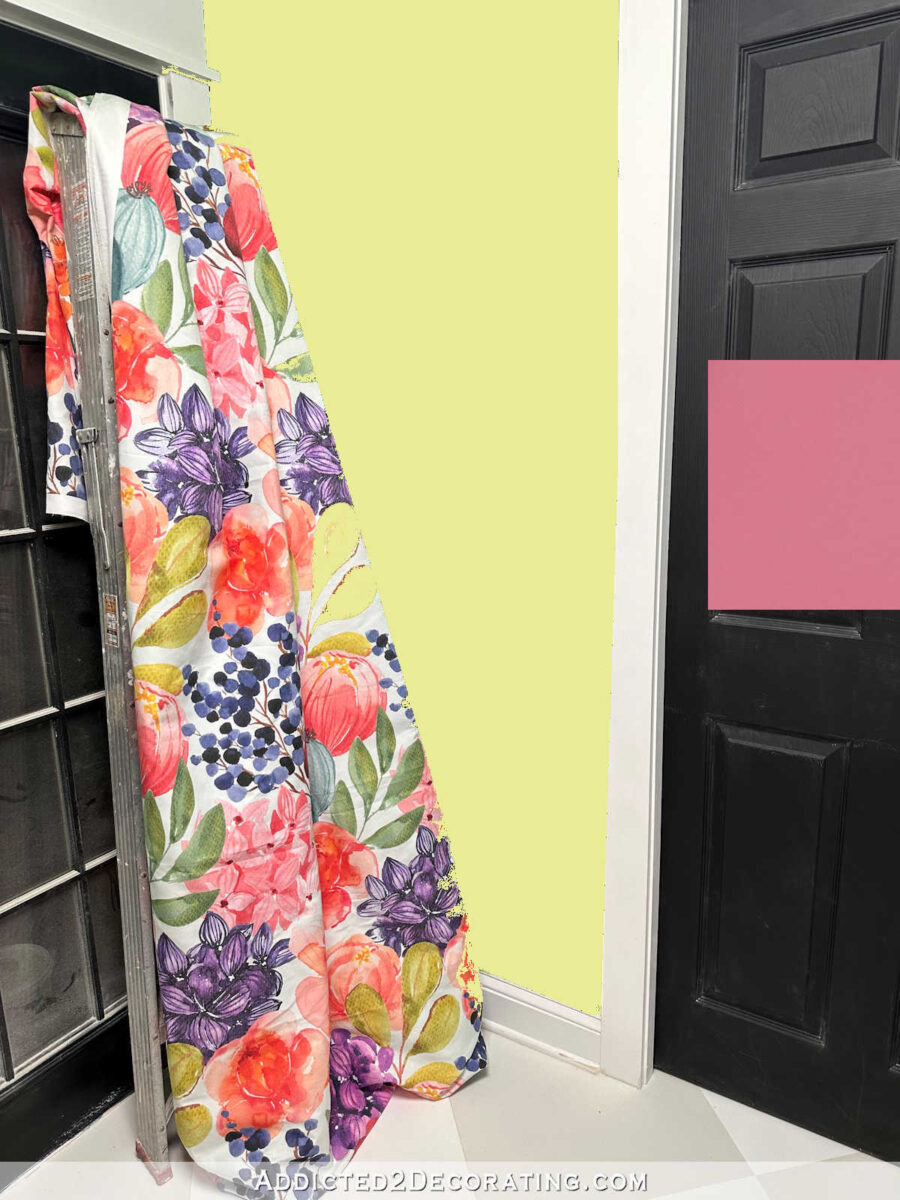 Then there were some color suggestions in the orange and peach color range. This is probably as orange as I can…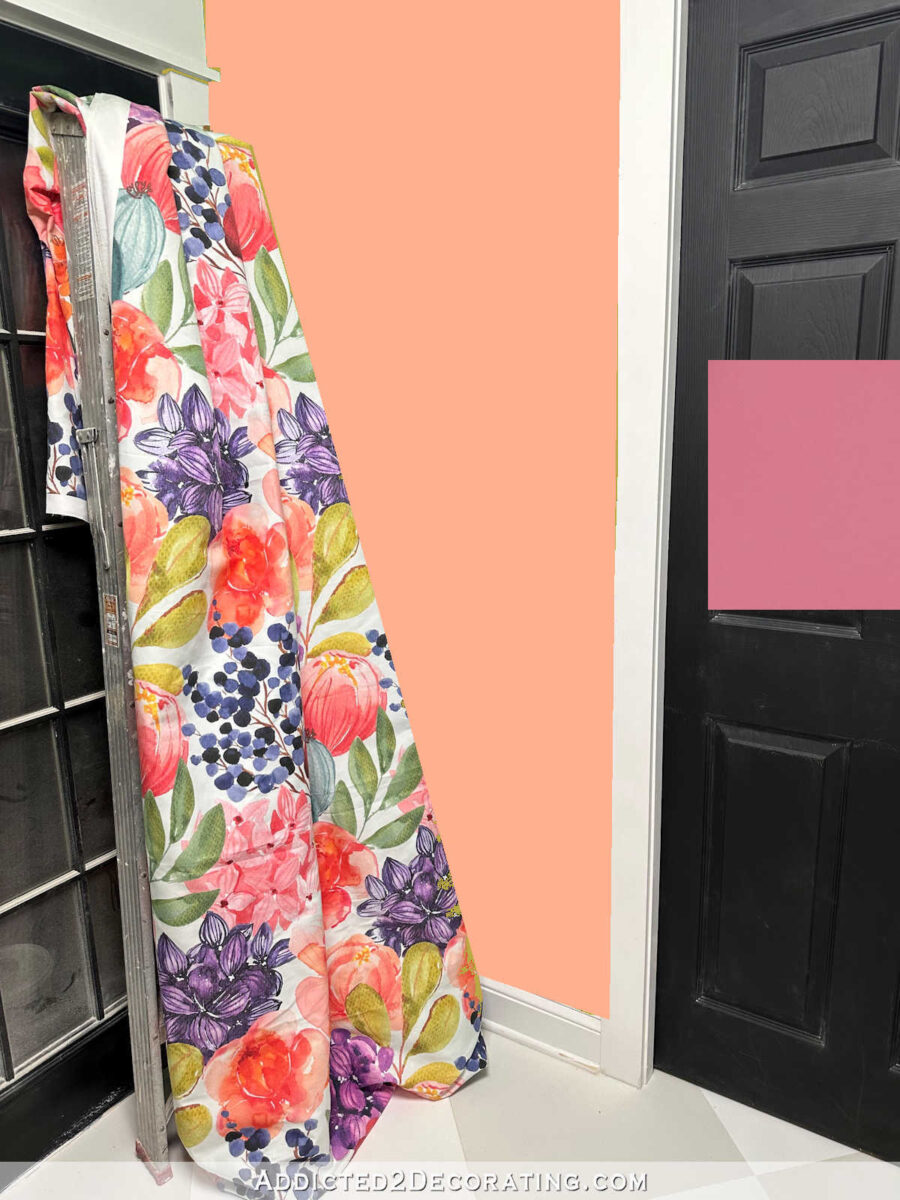 And this made it a little easier…
And a little lighter…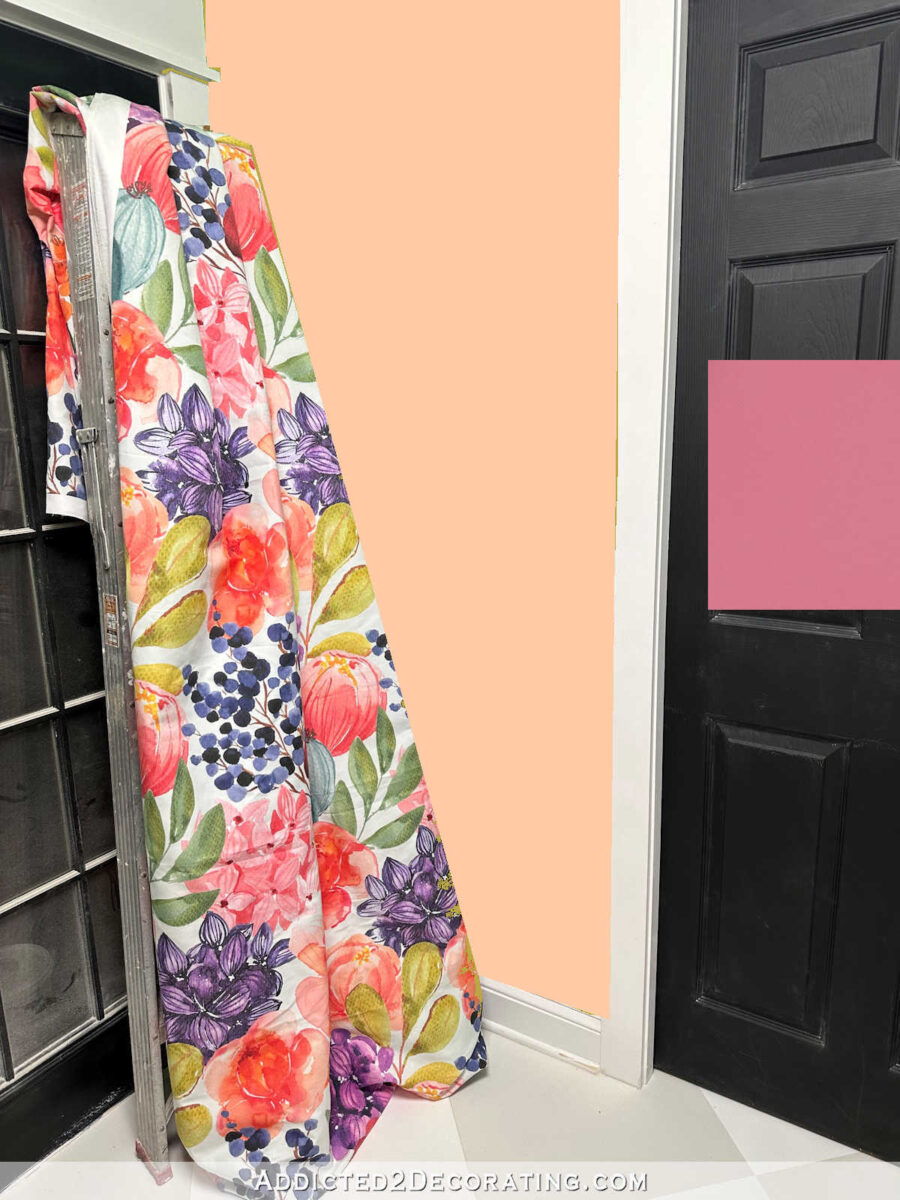 The next ones suggested were blue and turquoise. The turquoise flower on the top left corner of the fabric (is that a flower?) isn't as striking or bold as the other colors, but that's where the turquoise on the studio wall came from (by the way, mine intend to repaint). This is a very bright teal color. It looks almost blue gray.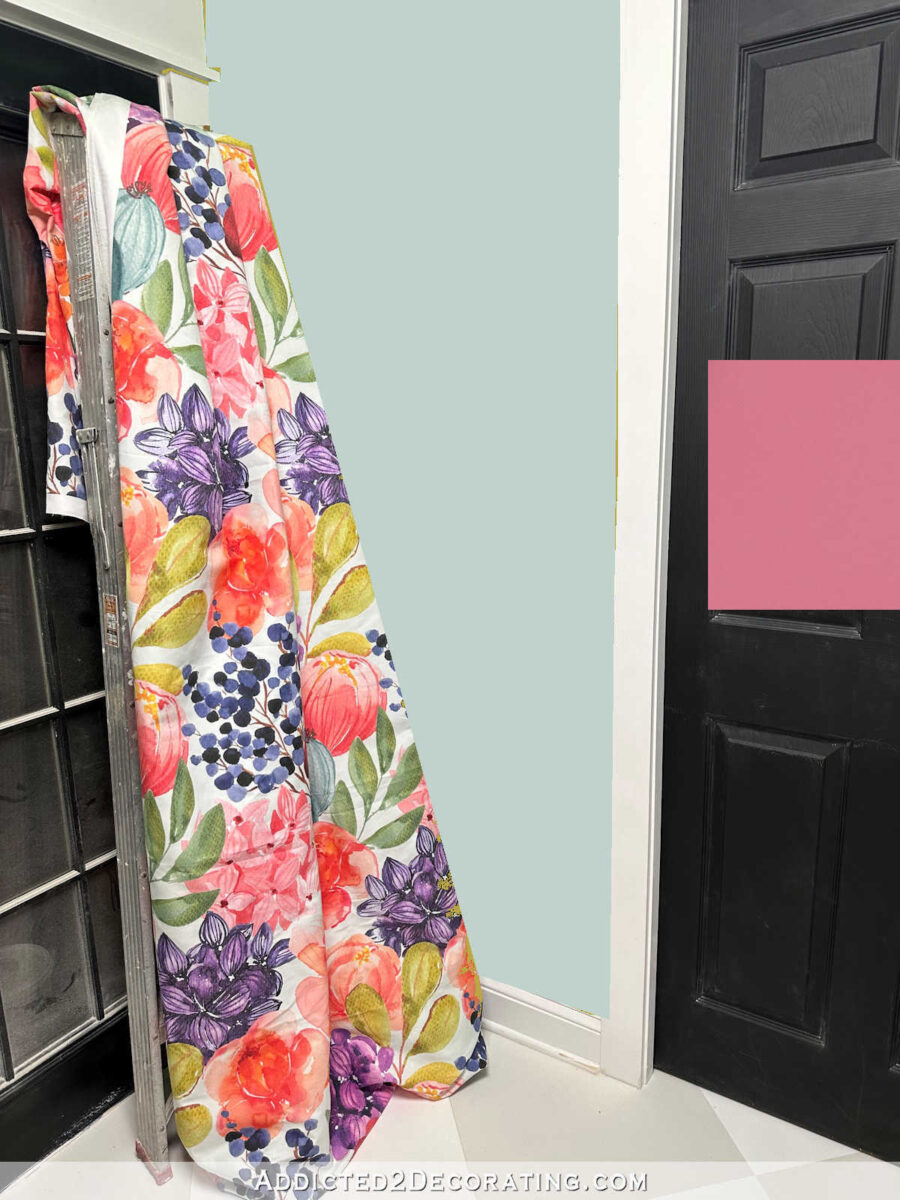 And this one is a little darker blue-green…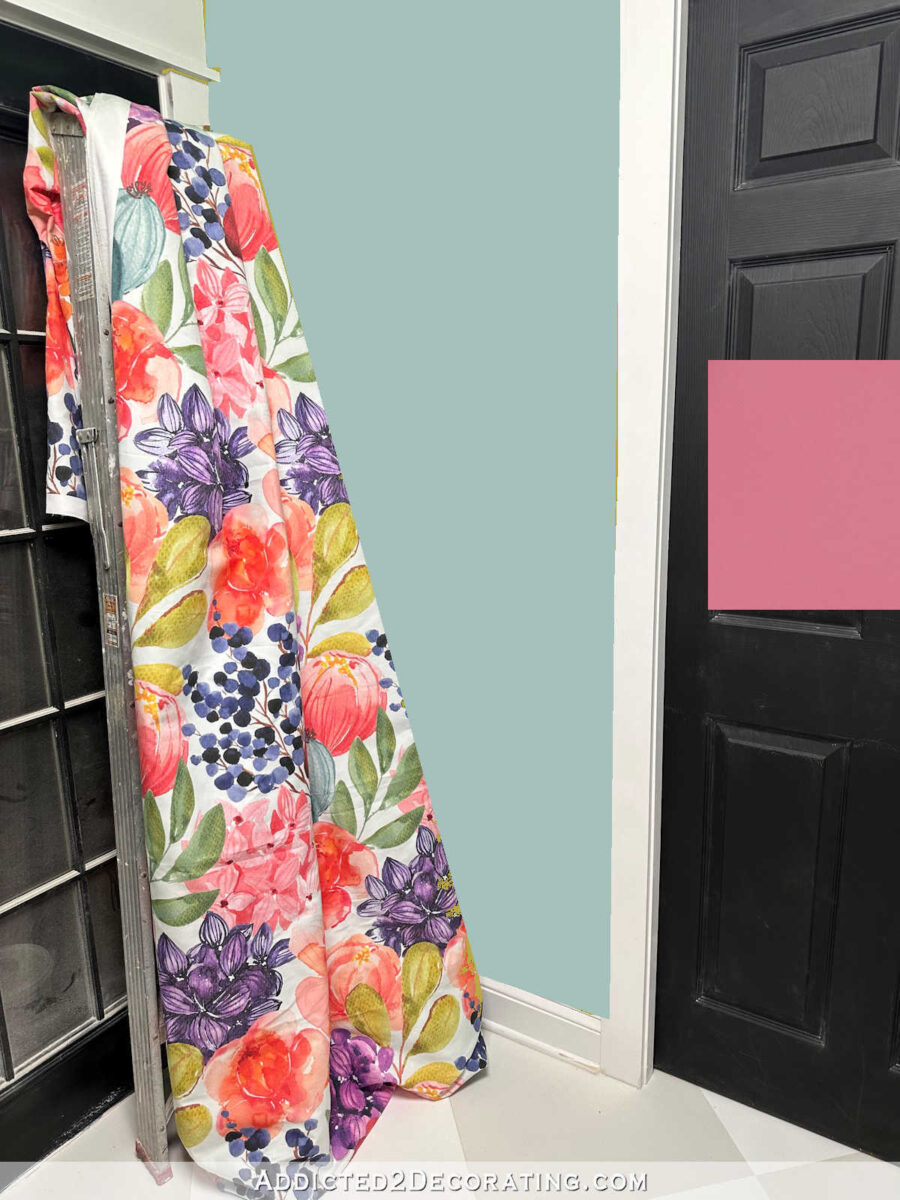 And it gets darker…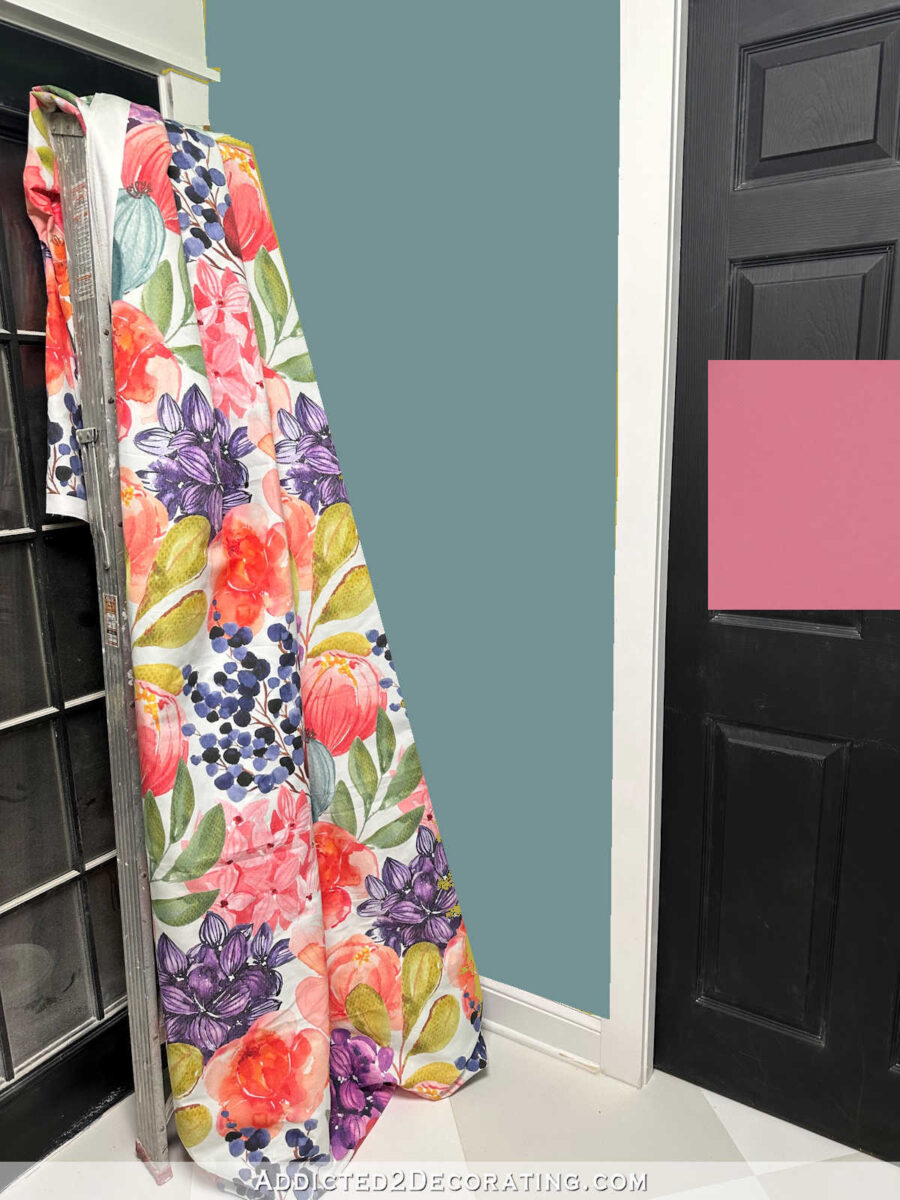 And of course, some suggested a more faithful and bright purple. The problem is that I'm very particular about purple, and I only like purples with lots of blue or very dark purples. Once I start trying things like light purple, lilac, and periwinkle, I'm no longer a fan. These just remind me of Easter egg colors and I don't like having them in large quantities at home. However, it was suggested many times, so I decided to make a mockup for the time being.
This is a medium light purple…
And here is one in the lilac color range…
And even brighter lilac…
I could have done more, but they would have been just variations on the above themes. I think I've covered most of the main suggestions. So what impresses you? Which of these?
It's worth noting that (1) the white wall in the back door is not an option, (2) painting the walls of the studio is an option, and actually considering white for the walls of the studio.
In Addicted 2 Decorating, I share my DIY and decorating journey of modifying and decorating a 1948 Fixer upper that my husband Matt and I purchased in 2013. Matt does most of her work because she has MS and she cannot do physical labor. I do my own housework. You can learn more about me here.