Why choose a stick-on drawer organizer?
Quick and easy – installs in your home in minutes with minimal tools
Removable without damaging drawers
Easy to reconfigure
Cheap – This withdrawal is about $5.
Compatible with almost any drawer, including metal sides

Things necessary
3/8″ or 1/2″ plastic C-channel (Available from Amazon here) – matching board thickness
Wood pieces 3/8″ or 1/2″ thick and 2-1/2″ wide are the most popular, but other widths are available for deeper or shallower partitions (Available at Lowes or Menders) – match the thickness of the C channel
Mounting tape, 1/2 inch wide, i used this
pruning shears or heavy-duty scissors
tape measure
A jigsaw or other saw for cutting wood to length
More about wood selection
The 3/8″ wood is what you see in the photos and videos. I've also done 1/2 inch.
Depth shown in these photos and videos is 1-1/2″ (may appear as 2″ when purchased, but is actually 1-1/2″). I like this shallow depth. Because it's easy to reach. If the depth is short, use tight spaces. Avoid tall, narrow partitions that are difficult to reach.
The tree species used was pine. There are other options such as soft woods like balsa and more expensive hardwoods. everything works fine. You can also use hardwood plywood that has been torn into strips.
How much material do you need?
For my one drawer shown, I used a 1 foot C channel and about 2 straight feet of wood board. My advice is to buy the c-channel pack from Amazon. Then you'll want to tackle all the drawers just by cutting and using them up as you walk around the house!
Are you planning?
This method is very easy. I really liked just making the dividers in the right places, so I was able to measure and separate the drawers with the contents to fit. Simply open the drawer, add more dividers, and keep adding more dividers until you're satisfied. If it fails, just peel it off and reapply.
How to make your own sticks for drawer dividers
Tidy up your drawers and clean them up. The sides must be cleaned so that the mounting tape can stick.
Measure and mark where you want the first divider to be placed.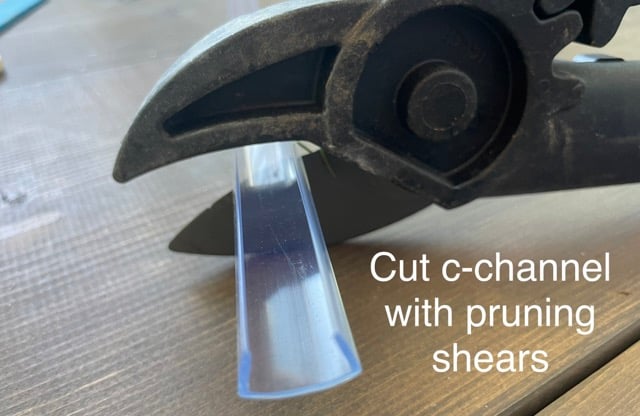 Cut the C-channel with pruning shears or heavy-duty scissors. The length of the cut should match the width of the board. In my example, I used a 1-1/2″ wide board, so I cut the C-channel piece 1-1/2″ long. Two C-channel pieces are required per divider.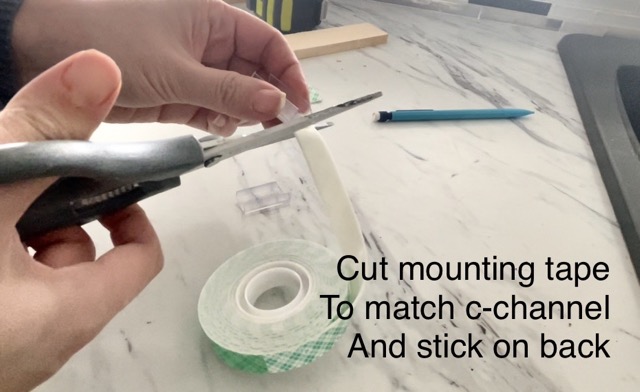 Cut the mounting tape to fit the back of the channel and stick it to the back.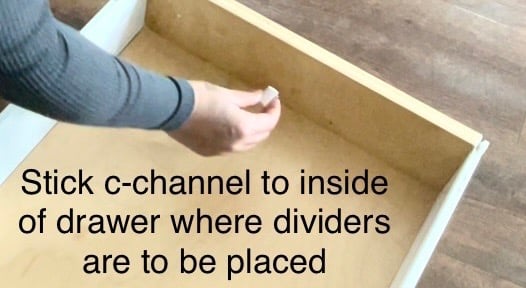 Stick the C-channel piece inside the drawer. Tip: Measure and mark the center so that the mark is visible when you stick the C channel in place.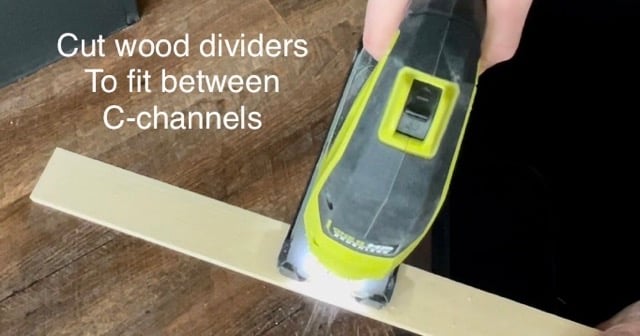 Measure inside the C channel and cut a piece of wood to fit snugly, but not too tight. I used a jigsaw to cut.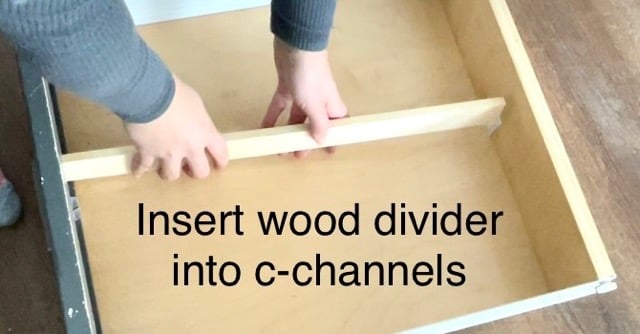 Insert the cut piece of wood into the C channel.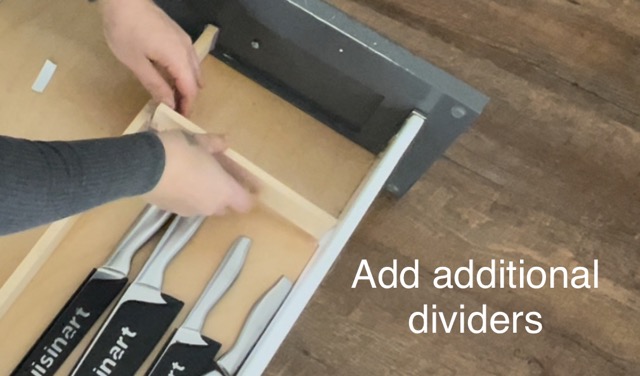 Repeat as necessary. The more dividers you add, the more stable your system will be.
Quick video of stick-on drawer organizer
Here's a 30 second video of me working on the drawer. Pruning shears are recommended instead of scissors to cut the C channel. This was the cleaner way.
Frequently asked questions about stick-on drawer organizers
What else can I use instead of the C channel? Metal c-channel, PVC shelf edge molding, or u-channel are all optional. You can also make your own if you have a 3D printer.
Do I need to pre-finish the wood pieces? If you're in the kitchen or bathroom, do it. A quick clear poly is enough.
Can it be pasted on the bottom? You might want to do that, especially for long spans. Simply slide it into the C-channel and add mounting tape to the bottom of the board
My piece of plastic is sharp. what can i do? Try cutting a piece of plastic a little shorter. You can also cut sharp edges with scissors.
See Also: Metal C Channel Drawer Organizer
This idea came from my original Metal C-Channel Drawer Organizer tutorial. Metal channels are harder to do because you have to file down the piece of metal so there are no sharp edges, but the finished product will be cleaner.