This post may contain affiliate links.Please read our disclosure policy here
Get inspired for your home with this summer living room mood board.
Monday isn't always the most inspirational day, nor the day you look forward to after a fun weekend. But I'm about to change that with Monday's mood board. We hope our mood boards inspire you and your home.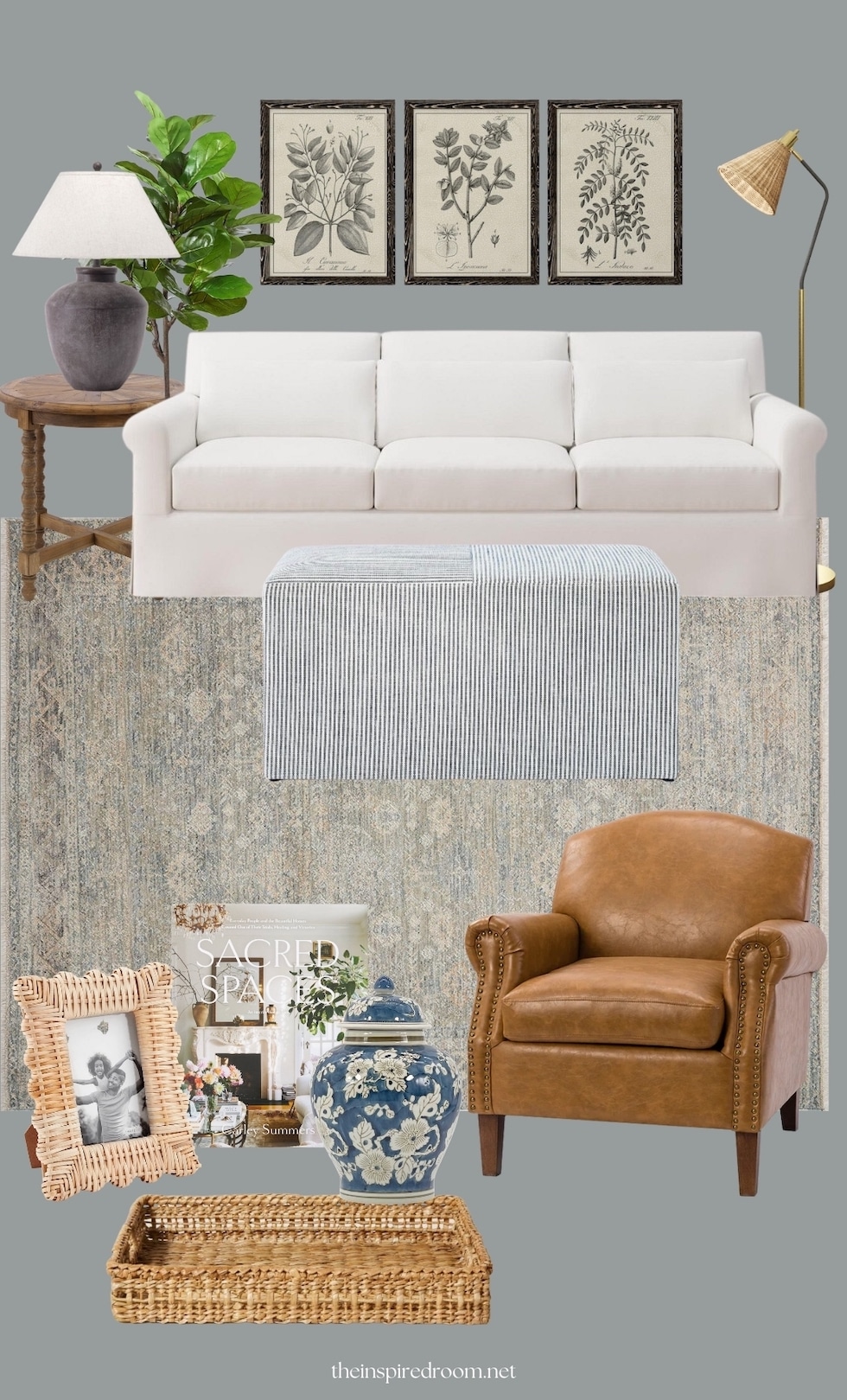 Tips for incorporating this look into your home:
The atmosphere in this living room feels very calm and peaceful. I love the fresh, comfortable, and effortlessly beautiful atmosphere.
Here are some style tips from this mood board.
The major works in this room are timeless. These have stood the test of time (yet still look very current today!) sofa, spindle side table, roll arm leather accent chair, and transition style rug.
An organic space born from natural colors and materials, botanical artworkand the interwoven texture tray, scalloped frameand rattan lampshade for floor lamp.
a large table lamp and make a statement. Black creates a pleasant contrast with the bright sofa (this is repeated in the photo) botanical art!).
of (fake) leather armchair Adds a rich and warm texture to the room, making the room always cozy.
of ticking stripe ottoman Works as an attractive footrest or coffee table (woven tray Great to put on top for a firmer surface!) and can also be used as an extra seat if needed.
Books are essential accessories for me. This is a beautiful coffee table book (And there are a lot of great stories out there, which I enjoy reading these days!).
Subtle shades of blue are repeated, ottoman, rug, jar of gingerwall color.
Plants (either real plants or artificial plants like this one) fake fiddle tree!) Always liven up a room. Tall plants can fill corners and add visual height. If a wall or corner feels empty, try taller plants. Check out these inspiring rooms with plants and greenery here.
The source link for the mood board is below. You can use every element of this mood board to recreate the overall look, or choose your favorites to incorporate into your own sense of style.Save this to your Pinterest boardFor future inspiration!


---
Black and white botanical frame art set
Blue and White Flowers Chinoiserie Ginger Jar
rattan shade reading floor lamp
sofa with white cover (I had the same sofa at home.) Square arm version, daughter Kourtney got it! See photos of my house and FAQ here)
artificial fiddle leaf fig tree
blue and white ticking striped cube bench
Love mood boards? You can find more here.You can also follow us @theinspiredroomstyle Find more moodboards and interiors on Instagram.
Join us for one of our Room Recipe Workshops at the HomeBody Gathering Hall (available for a limited time only!). learn more.

Further inspiration:
How to decorate if the front door leads to the living room
10 tips for styling large living rooms and other awkward spaces
Summer dining room mood board (shades of green, white and blue)