With my kids' summer vacation starting this weekend, I thought of a fun twist on my usual summer reading goals. We came up with this idea while playing "what if" on a family walk this morning, got home and made a paper template and an hour later Sherry happened to mention it on Instagram. Did. Shelly's her DMs then filled up with people wanting to share a copy of the bracket or tell me where they got it (I made it in Photoshop) so I decided to delete it. Two free printable options I will explain it in this post. Being a 41 year old male myself, I had fun making the above filled-in sample (my kids have more wacky places for theirs 😉
The idea is simple. Have children try out different reading locations and pit each location head-to-head in March-Her Madness-style brackets. reading a book in bed, under my bed? On a pool float or on a blanket fort? In a hammock or on an outdoor swing. Slip into a sleeping bag in an empty tub or curl up in a swivel chair by the fireplace. We thought it would be a fun way to mix the reading habits while officially crowning the favorite place for children to read and unwind.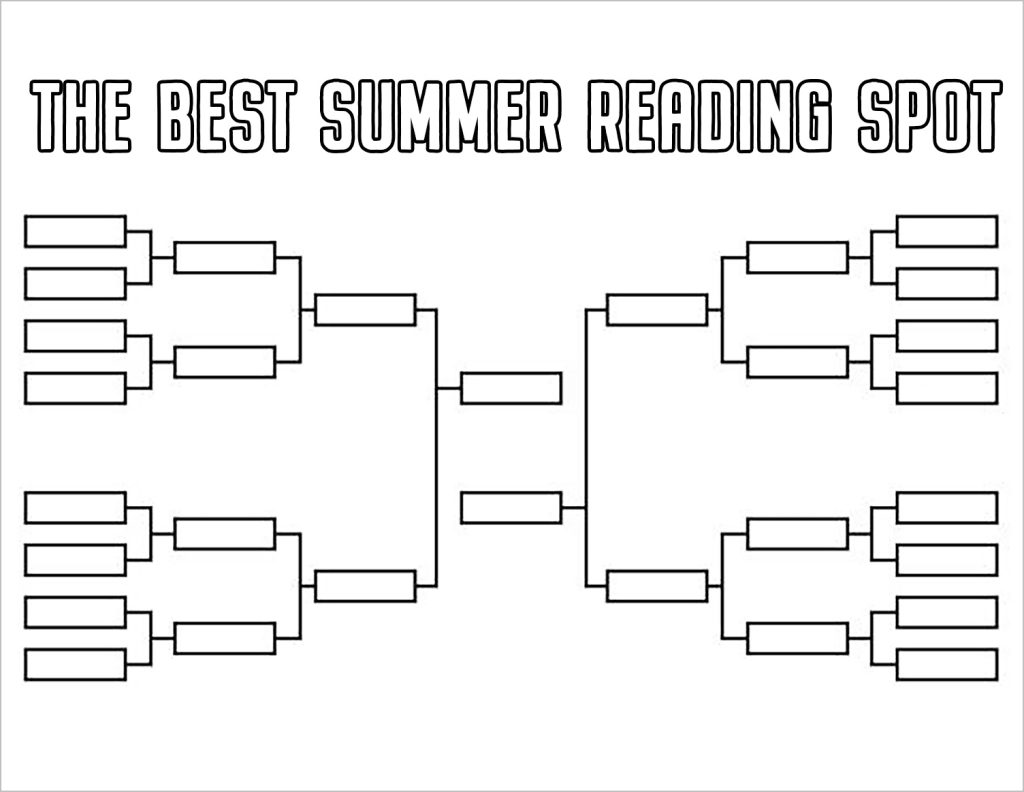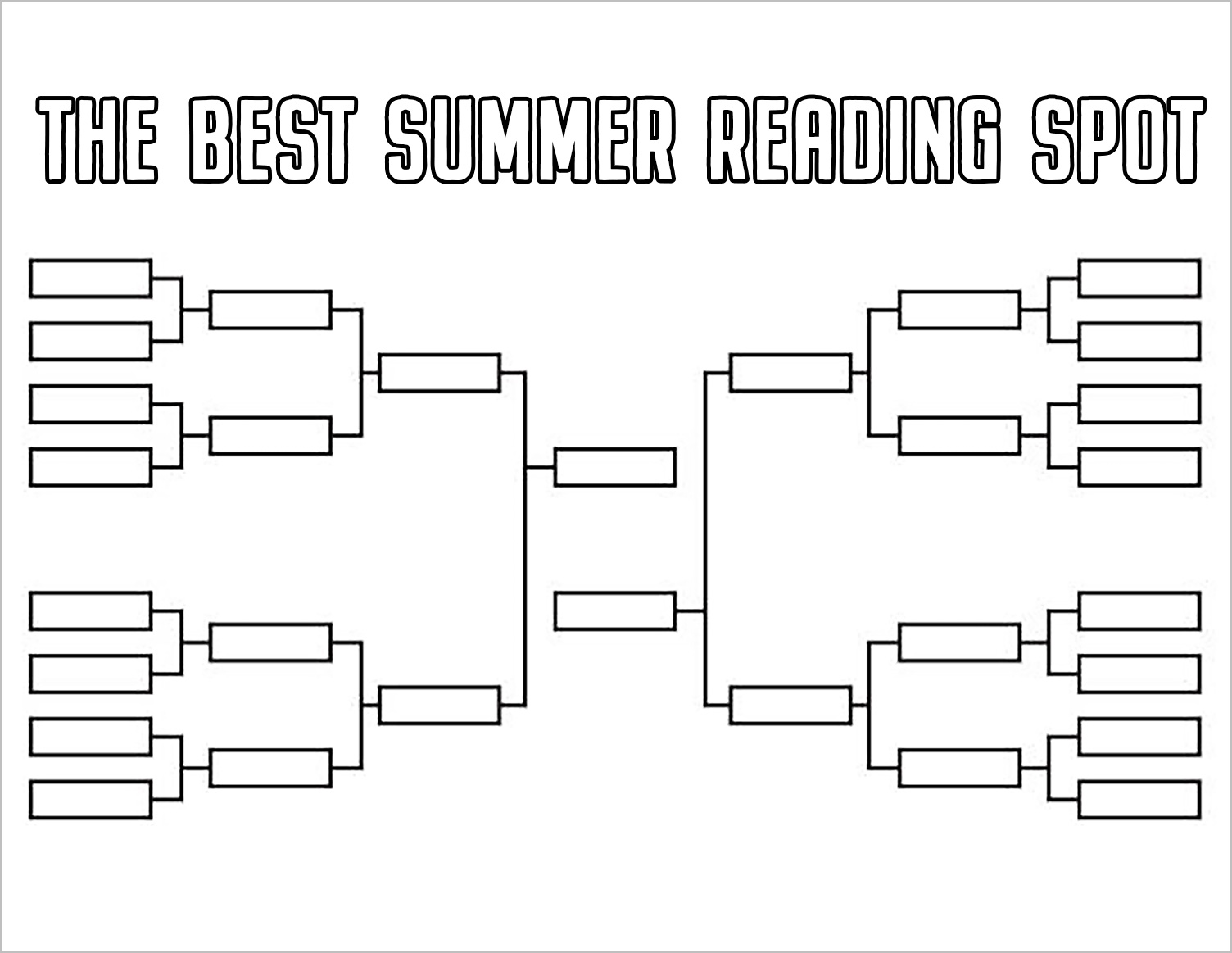 Click to download a simplified summer reading bracket that you can print above
I first printed a simplified version of the above (as shown by Sherry on Instagram) and then tweaked it a bit. First, we've added some time guides that accumulate at each stage of the competition. Working at each location she starts with 15 minutes and eventually she extends to 30 minutes (feels like a real test for each location).
I also split the bracket (literally) into two sides, an inner position and an outer position. I think this will definitely give our kids a lot of fresh air while inspiring them to be more creative in their spots and making for a more interesting final showdown. My bet is that Hammock wins the crown (Sherry has the money for "floating in the pool").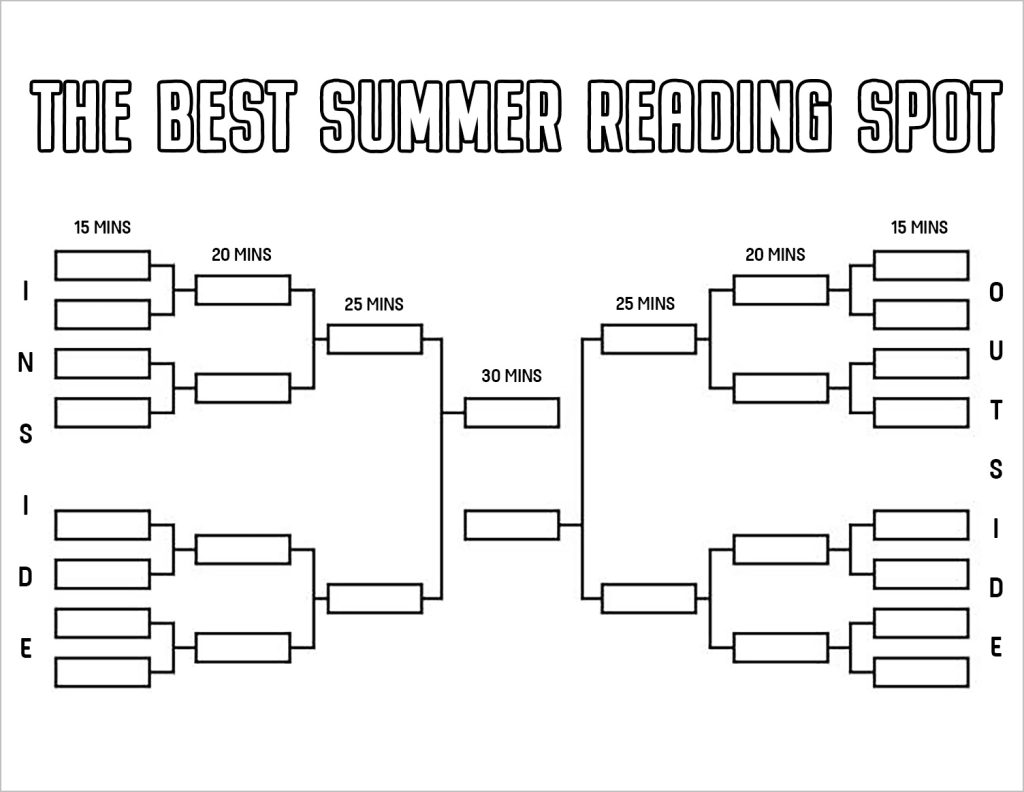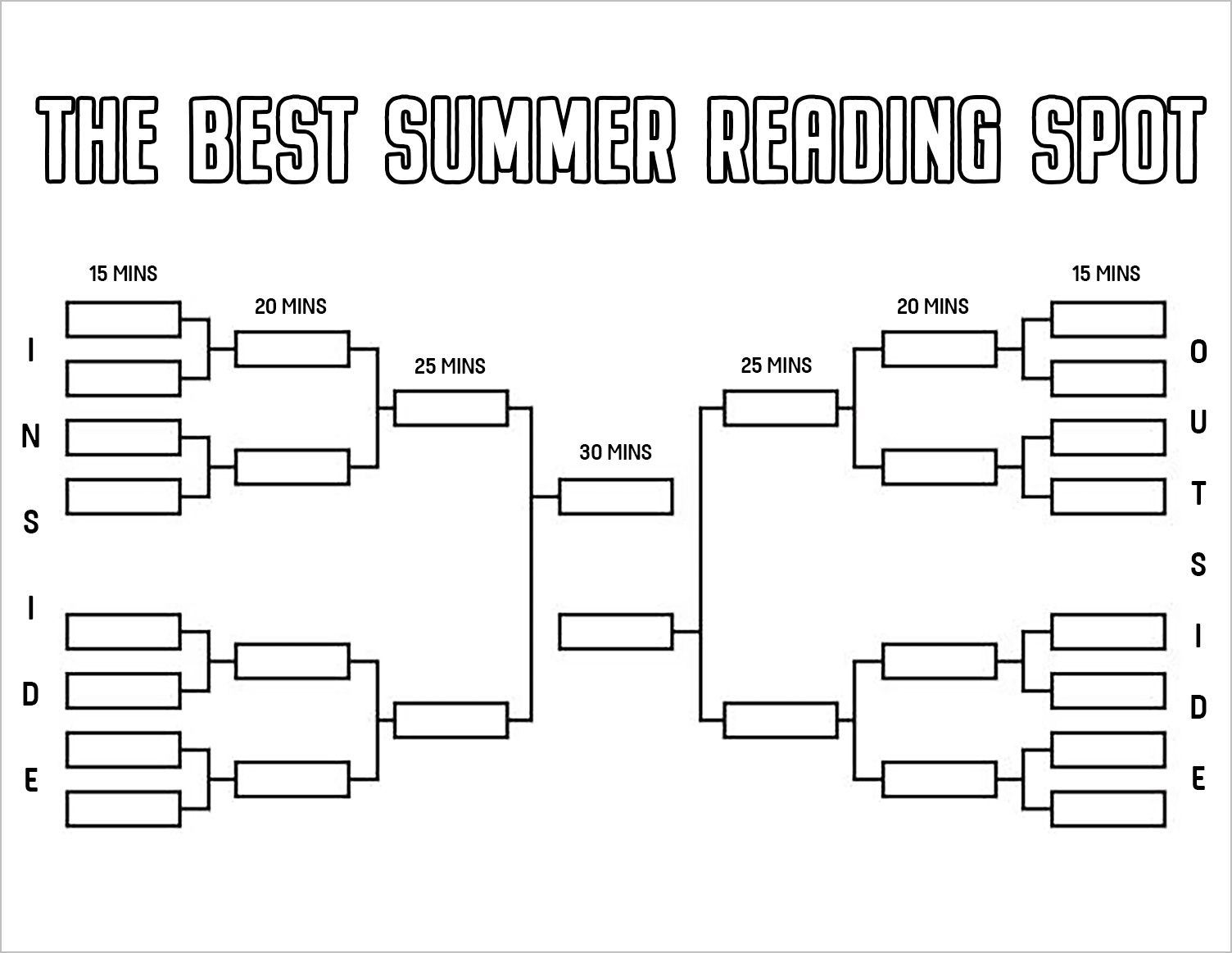 Click to download the printable summer reading bracket above (with time)
We let the children come up with 16 locations on their own, which was another fun activity. Our son and daughter chose pretty much the same matchup, but it was also fun to see where their respective bracket positions diverged. They also picked two of her reading spots in the neighborhood to see if "reading on destination" was more fun.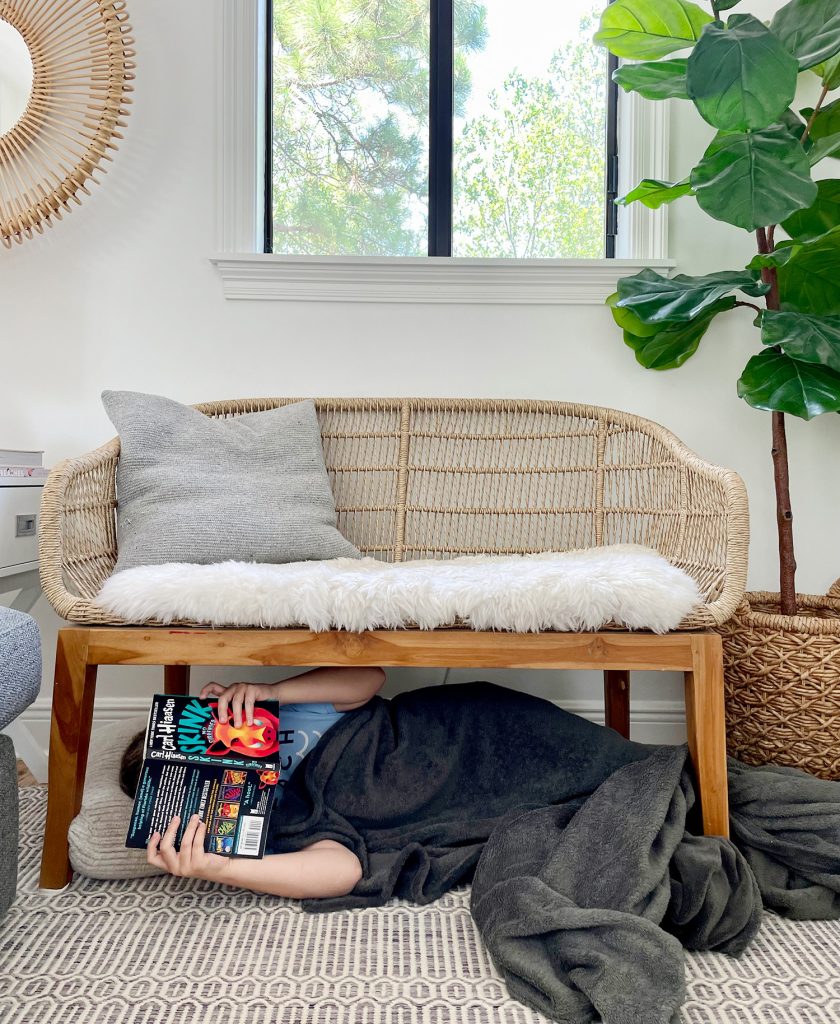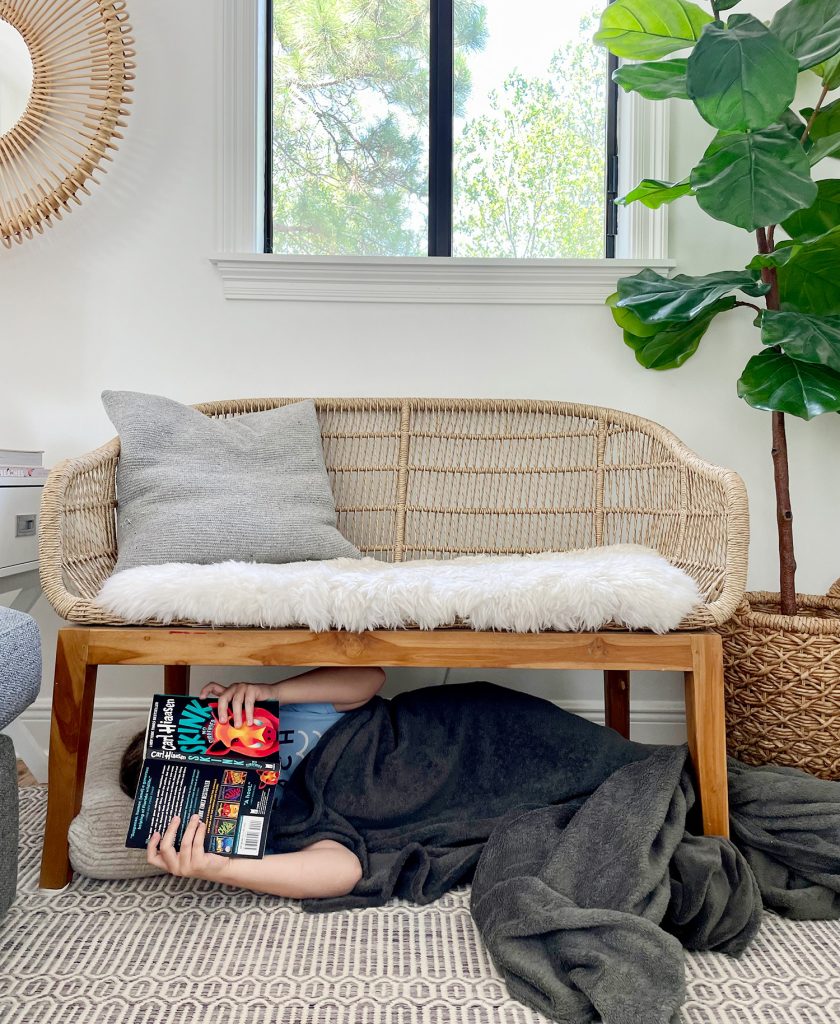 The printable is very simple. Because I wanted kids to color and customize (markers, stickers, etc). I thought about adding blank lines to keep track of what I was reading, but ended up just writing it down on the back of a piece of paper as needed.
Other reading bracket variations
There are many other ways you can customize it to suit your child, age, and reading interests. There are things like:
Each round contains a different type of book (starting with comics or graphic novels and progressing to chapter books by the final).
Each round adds a new "comfort" item (stuffed animals, then snacks, then drinks, etc.).
Bonuses are built in for completing rounds (such as being able to pick up new books at your local bookstore or library, or buying time for mom or dad to read to you instead).
Have siblings add parentheses to each other to introduce interesting or strange places (such as "Challenge them to read a book for 15 minutes on top of a tree").
Honestly, I can do complex or simple tasks depending on my needs. When I came up with this idea during my morning walk, my kids liked it so much that this is the first time I've tried it. If all goes well, following the brackets will add up to 30 different reading sessions, totaling over 9 hours (on each book). My kids love to read, so this is not really a way to trick them into getting into a book. But with the novelty of the head-to-head bracket competition, I feel like my kids started reading the book right away (both of them) as I'm typing this, two very strange reading location).
Again, here are the links to download each version:
Download Timeless Summer Reading Bracket
Download this summer's reading bracket
happy reading! Feel free to message Sherry on Instagram and let us know which spots ended up being your family's favorite. I'm tempted to make sure I really like the hanging daybed, hammock, or poolside lounge chair…but I might just keep playing on the field with all of these.
More posts from Young House Love