Last year we launched a new decorating Instagram. inspired room styleEach week we feature classic and modern items to help our followers decorate their homes affordably and easily. It was a lot of fun. Many readers of The Inspired Room asked if we could share their Inspired Room Style finds on our blog (we know many of you aren't on Instagram). From Inspired Room Style (according to our followers!), you can enjoy them too.
Here's how Inspired Room Style works: We scour the web each week to personally select pieces that are classic, current and in a variety of price points (but most are very affordable). We share one of our original pieces of art, like a vintage find! Where possible, we also share photos of the 'real' product in store or at home.
No cost at all. A very simple and convenient way to get inspired and collect stylish pieces over time. Find what you love and save yourself money, time and frustration trying to find the best options.
We want to make it easier for you to decorate your home and let you choose your style with confidence.
Enjoy this month's Inspired Room Style favorites.
Scroll down to find the style board and list featuring Inspired Room Style followers' April favorites.
You can also follow along inspired room style Share your daily inspirational finds and style tips on our stories on Instagram and bookmark our shop here!
Sources for the above (click on each for details):
1. bistro table and chair set – We have a similar set in black and white on our front porch! Get inspired by our 6 bistro table mood boards in this post.
2. welcome door mat – This was one of our TIR followers' favorites from our recent roundup of the ultimate doormats we shared.
3. Windows/handrails Planter boxes (self watering) – Last year I put these on my front porch railing. I love the curb appeal and the fun pop of color it adds! See my photos, how I hung it, and more here.
Four. lattice design planter box
Five. Natural Concrete Tall Planter – It has multiple color options and excellent reviews.
6. outdoor storage – I had this for storing outdoor cushions in an old folk house and it was great! See my photos and learn more here.
7. stacked stone fire pit – I love using the fire pit in the summer. this looks beautiful. You can see "real life" photos in the review.
8. Raw hydrangea in a basket – I can't wait to plant hydrangea in my new garden!
9. Blue and White Scalloped Outdoor Rug – I love the scallop border!I Another blue and white outdoor rug This reminds me, you can see a photo of it on my porch. See more outdoor rugs here.
Below are my favorites from last month our amazon shop!
Sources for the above (click on each for details):
1. fake tulips – I shared these years ago. It looks and feels very realistic and comes in several colors. You can see a photo of them at my house here.
2. Rolloy Rag – I have several different Loroi Rags: This one I plan to put it in my living room. This one I'll put it up on The Snug (here's a picture at my house). They are so beautiful and great quality.
3. antique brass kitchen faucet – This is the same brand of faucet that I used in my last kitchen (I had This one), we're happy with it and it's a great price.
Four. Brass wall sconce with linen shade (set of 2) – These are the wall lights that I used without having to actually wire them.i use these rechargeable bulbs (details and photos here). I have both black and brass.
Five. rechargeable light bulb – (bulbs used in the candelabra above)
6. feather replacement pillow – These have lots of rave reviews! You can find some of my favorite sheets here here and more bedding here.
7. Blue Lightweight Reversible Throw Blanket – I have these affordable, reversible and washable throws in several patterns. I have also used it to cover the bench seat cushions.Many of you told me that you followed my recommendation and grabbed these! This gray and white crossthis blue geometricthis blue and white cross oneand this flower guy). I shared more about them and photos in this post.
8. rattan door cabinet – I like small accent cabinets like this. I used them as an "entry command center" and used them to store a variety of things such as office supplies, bedding, and entertainment supplies. You can see a post here with pictures of how it works.
9. Marble Scalloped Frill Bowl – I've never seen this before, but it's amazing! Made of natural marble, it makes a beautiful serving bowl, coffee table, nightstand to hold jewelry, or as a lovely accessory to display on a shelf as a special statement piece. You can use it.
Ten. Cordless Hardwood Wet/Dry Floor Cleaner – This one is great and has many good reviews! In this post I have shared another steamer mop that I love.
11. Portable carpet and upholstery cleaner – This is a best-selling upholstery and carpet cleaner. These work absolutely amazing, especially in homes with pets and children.
Sources for the above (click on each for details):
1. dimming chandelier – This cute chandelier was on one of the cozy room mood boards in last week's blog. Multiple finishing options are available.
2. round rattan mirror – This looks like serena and lily For a fraction of the price! White is also in stock. This is available in PB. here or amazon here.
3. patterned rug – I got this rug for my ocean/gold colored living room. Our house is still under construction but we couldn't stand a peek at our new floors (see peek). here).is also available Wayfair.
Four. pontassel striped curtain – I have had these for years (see photo in room here). I haven't decided where to put it in their new house yet, but they will definitely find a home.
Five. striped upholstered swivel chair – I came across this chair recently and thought the blue and white stripes were really cute.
6. 2 door cane accent cabinet – My daughter Kylee has these and puts the two together to make a long console (great money-saving hack!). See those photos in her entry here.
7. white bookshelf – In the old guest room (picture here) and in the basement office (picture here). The flat sides make it look like a built-in bookshelf when pushed together.
8. rattan table lamp – I have this lamp. Quite a size which I like, but I also like that it's still airy and open with rattan material (see pics of my room here).
9. brass pharmacy floor lamp – I have this in my bedroom (see photo here).
That's it for this month's favorites. If its helpful then im happy.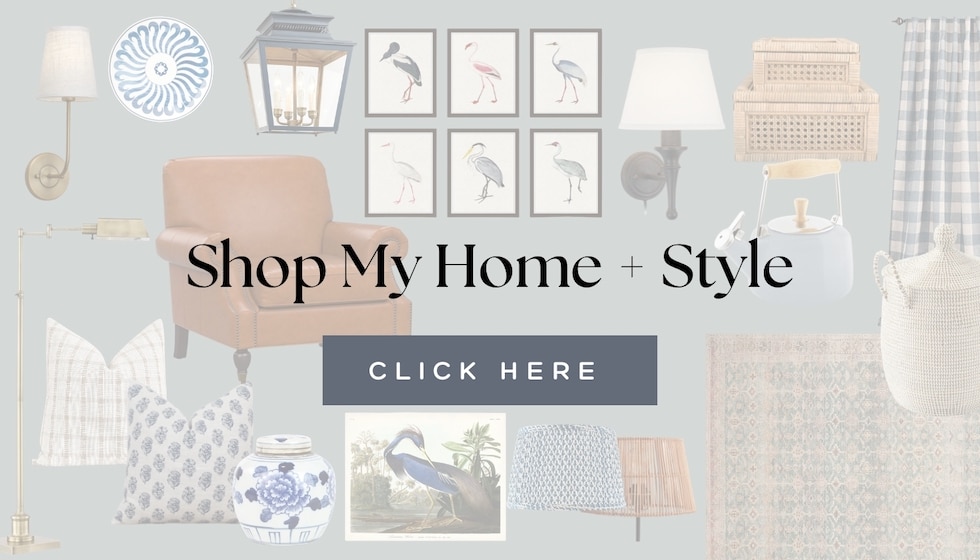 Follow us on Instagram @theinspiredroom Inspiration and daily home updates, and @theinspiredroomstyle For daily interior discovery!