IKD's Inside-Out design offers more functional storage.
IKEA offers interior organizers in addition to everything else it offers: cabinets, furniture, countertops, appliances, Swedish meatballs, pink toilet paper, dog-butt wall hooks, succulents and more. The point here is that while IKEA is a great place to buy household items, they don't specialize in any particular area of ​​the home.
The Rev-A-Shelf, on the other hand, has a clear focus. It's home storage and organization.
Rev-A-Shelf offers innovative organizers for every home, from pantry and blind corner drawers to vanity and bedroom closet solutions.
IKD is proud to be an Authorized Rev-A-Shelf Partner.
personalized ikea kitchen design
Created by Certified Designers

let's start
How you use your cabinet's internal organizers is just as important as how the cabinet looks.
IKEA knows their customers want organizers, so they try to provide the basics through their UTRUSTA and HALLBAR lines. These products include several pull-out racks, pantry organizers, corner-based cabinet carousels, and pull-out frames for recycling.
One of the most requested organizational solutions is the pull-out trash can.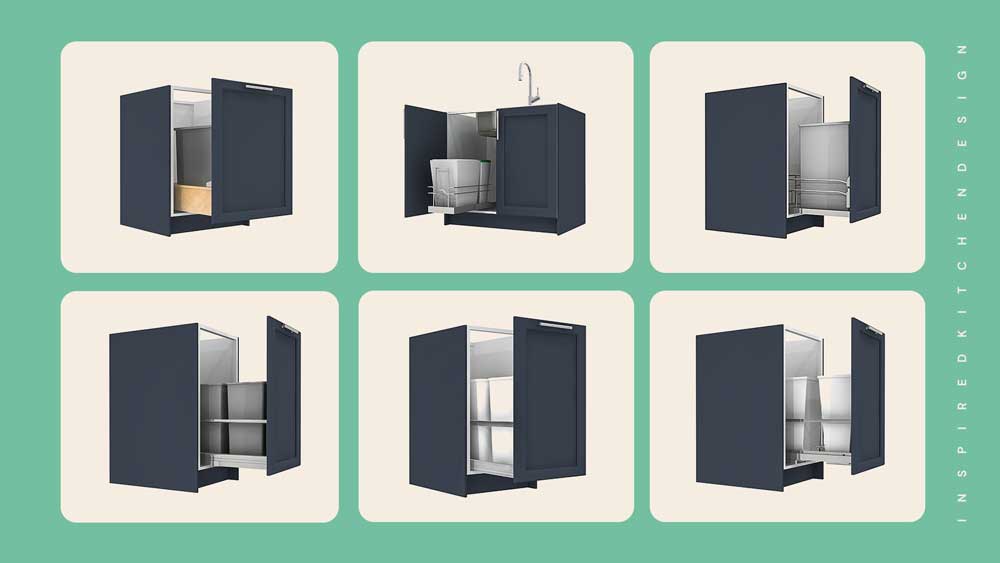 IKEA offers one pull-out frame for recycling, but the Rev-A-Shelf has 10 options in maple finish alone. Depending on your budget and goals, the Rev-A-Shelf pull-out recycling system costs $100 for a basic wire solution and $1,300 for a solid wood touch-to-open device. You can also choose a small trash can that pops up when you open the cabinet door (perfect for your bathroom vanity) or a trash can that fits in the recess of your kitchen counter.
This striking contrast can be found throughout the home. IKEA has several internal organizational options. The Rev-A-Shelf has all the options.
Why Customers Choose Rev-A-Shelf Over IKEA for In-Cabinet Organization Solutions
"The Rev-A-Shelf has helped me maximize my space."
When it comes to cabinet fillers (or to make the empty space between cabinets look nicer), IKEA has some decorative panels. In one small kitchen design, IKD designer Albert installed two of his 6-inch Rev-A-Shelf fillers on either side of the oven. Homeowners can now store spices and other small items in areas that would normally be wasted space. The Rev-A-Shelf offers the same solution for the empty space between refrigerator and cabinet by featuring a 6 inch cabinet filler that reaches up to 96 inches in height.
"The Rev-A-Shelf makes my kitchen safer and easier to operate."
To make it easier for you to reach items in the kitchen, IKEA offers … a step stool. The Rev-A-Shelf brings cabinet contents to you with a pull-down shelving system. In fact, you can easily access anything in your cabinets with several pull-out shelf options. In this kitchen her design, IKD customer Patricia greenlit her six of her Rev-A-Shelf products. 1 pull-down shelf, 3 pull-out shelves, adjustable spice rack and pantry her pull-out. Easy access to everything was very important to Patricia.IKEA offers a pull-out pantry system with 8 baskets, 4 of which are mounted inside the cabinet door. It pulls out automatically when the door is opened, preventing items from getting lost in the back and allowing valuable, but often untouched, space inside cabinet doors to be used, as used in Patricia's design The Rev-A-Shelf pantry drawer, which requires only 12 inches of unused space, slides in similar to the company's cabinet filler design.
"The Rev-A-Shelf provided a more practical solution to my corner cabinet storage."
A lot of IKEA's business comes from selling kitchens, so we're focused on solving the blind corner cabinet problem. If you have a U-shaped or L-shaped kitchen, corners can be a problem. IKEA offers corner base cabinets with pull-out fittings. It looks like two half-moon shaped plastic plates that slide for easy access. However, the space available on these plastic plates is limited. The Rev-A-Shelf, on the other hand, offers a blind corner optimizer with 2-3 times more storage space and sturdy materials.IKEA also has a carousel option. Again, this is plastic and the carousel shelf is fixed. The Rev-A-Shelf offers an alternative option made with heavy-duty chrome wire and adjustable shelves.
Let IKEA handle the cabinets while Rev-A-Shelf handles the internal organizers.
IKEA offers very basic organization options and may be cheaper than Rev-A-Shelf organizers, but Rev-A-Shelf organizers provide better service, last longer and Add style to your kitchen remodel.
That's why so many IKD customers choose Rev-A-Shelf products over any other brand.
Get Professional IKEA Kitchen Designs – All Online


Work with a certified kitchen designer to get a personalized kitchen designed to suit your needs and vision. To find out more about IKEA services, visit IKEA kitchen design services.