How fun and cute are throw pillows? These gorgeous and beautiful accents have been staples in the design world for decades. Throw pillows are one of the most accessible and streamlined ways to quickly update your home, giving a room a whole new look with minimal effort. There are tons of colors, designs and textures to update everything from sofas, loveseats and chairs to beds and even entryway benches.
How often do you take out your throw pillows and don't even think twice about care and maintenance? By the way, they can Some are machine washable. We've put together a helpful guide to refreshing your great pillows and simple maintenance tips so you know exactly how to clean your cushions.
How to clean the throw pillow
Like most things, pillows can be machine washed, hand washed, spot treated or dry cleaned. In fact, it depends on the pillow and its material.It depends on the material and structure of the pillow, but the appropriate method also depends on the state and degree of dust and dirt. It's important to address spills and accidents as soon as you spot them to eliminate any chance of them occurring.
Apart from these factors, maintenance cleaning several times a year can keep your throw pillows looking like new.
Today, it is common for most cushions to come in two pieces. These two parts are the insert and the removable cover. This makes them more accessible and easier to care for. The first important step in cleaning your pillow, regardless of how you clean it, starts with testing a small area to make sure it's safe to continue.
To run a small test clean: Add a little water and your favorite mild detergent to a clean white towel or rag and dab the pillow in an inconspicuous area for 30 seconds. You can also use a wool-specific detergent or upholstery cleaner.
Check towels for color transfer and pillows for fading. If you see no signs of color change, you're good to go.
Before you start, it's essential to consider the fabric of your pillowcase. You'll learn more information about cleaning different fabrics later in this article, but here's a basic how-to for each technique:
hand wash
If you are unsure of the fabric of your cover, or if you are unsure if the fabric will withstand hot or hot water temperatures, or even the rigors of a spin cycle, hand washing your pillowcase is your best bet. Start by spot treating any stains or marks with a suitable cleaner.
Then fill a basin or sink with cold water and a little mild soap and soak your pillowcase. Let it soak for a few minutes, then carefully remove any remaining dirt with your hands. Rinse well, do not squeeze or wring, let air dry.
washing machine
You should always take a soft approach, using a delicate cycle, a water temperature appropriate for the fabric, and a minimum amount of mild detergent.
Rather than tossing your pillowcase in your regular laundry, we recommend laundering it in small batches of similar fabrics or similar colors.Once clean, check the care tag on your cover and machine dry or air dry. See if you can. If the tag is missing or missing, we recommend letting it air dry in a well-ventilated area away from direct sunlight. After it is completely dry, put the cover back into the insert.
Dry cleaning
If your cushions have embellishments such as beads, appliqués, or embroidery, attempting to spot clean such delicate areas may damage them. Most dry his cleaners accept these types of items, but you can always call ahead and ask first.
spot treatment
In most cases, the finer the fabric, the more likely you'll want to avoid completely soaking the entire cover. This is where spot processing comes into play. Daily dirt can be vacuumed using the upholstery attachment with minimal pressure.
Grease stains can be a bit of a problem, but using baking soda on the spot for a few hours and then vacuuming will take care of that. Blot excess liquid with a clean cloth or towel, dampen a soft sponge with water and mild soap, blot the area, and dab the stain gently. Use a clean sponge or damp towel to rinse off any remaining soap.
If you want to speed up the drying process, use your blow dryer on a low setting.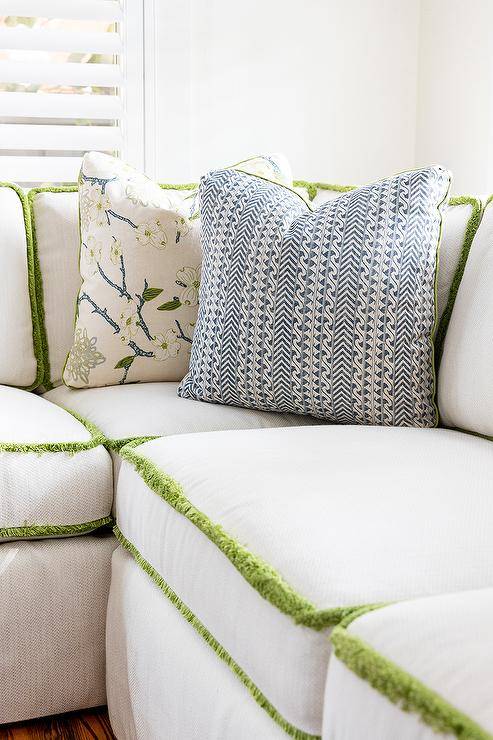 different pillow fabrics
You'll want to know what fabric you're using to avoid damaging or shrinking your cushions. Fabric information and cleaning suggestions can usually be found online. Alternatively, it may be printed on the care tag, sewn into the seams or piping on the outside of the pillow, or inside the removable cover.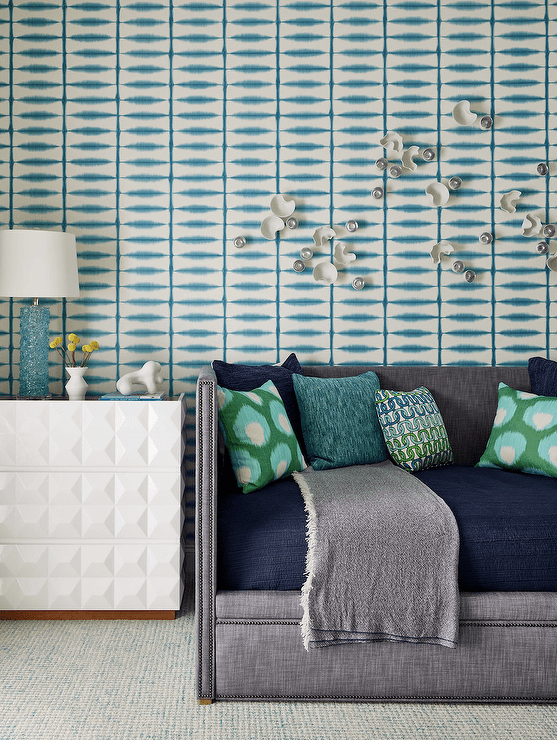 Some of the most popular fabrics for cushions are:
acrylic: A soft, lightweight yet durable synthetic fabric that is machine washable in normal cold water. Line dry or use the "air fluff" (no heat) setting on your machine.
cotton: Machine washable in normal warm water. Tumble dry on low heat to avoid shrinkage.
polyester: You can usually toss it on a cold water machine cycle.Tumble dry on low heat.
linen: It may warp or wrinkle after washing, so we recommend spot washing or dry cleaning. Clothespins can leave ridges in the linen, so lay them flat on a towel to dry.
silk: (Note — very fragile) It can be hand washed in cold water with a mild detergent without scrubbing or squeezing. Instead, gently squeeze out excess moisture and let it air dry. Lay flat on a towel to dry as heat can shrink or damage the fabric.
velvet: It is best to spot clean. If the entire pillow is dirty, hand wash the velvet in cold water. Lay it flat on a towel to dry so that clothespins don't damage the fabric.
satin: It can generally withstand machine washing in cold water. Satin can be woven from a variety of fibers, so it's safest to line dry or tumble at low temperatures.
Velor: Machine wash normally in cold water. Use the dryer on low or no heat.
wool: Wool is relatively stain resistant, but it can still get dirty. Spot treatment or dry cleaning is best in this case. To hand wash, soak in cold water with a minimum amount of detergent specifically for wool and lay flat to dry.
Pillow insert cleaning tips
The pillow insert is less likely to get dirty or stained, but dust that passes through the fabric of the cover can accumulate. recommended.
Most inserts are polyester, so if a large spill soaks into the cover, toss the insert in cold or warm water and use a little detergent for a gentle cycle. Tumble drying on low heat with dryer balls will help restore the fluff and shape of the insert. Make sure the insert is completely dry before zipping it to the cover.
If the pillow insert is made of foam or memory foam, avoid the cleaning methods mentioned above. In this case, it is best to spot the spill with cold water and a little detergent, as the machine's spin cycle can damage the insert. Also avoid squeezing or squeezing the foam while wet. Allow the foam to air dry completely in a well-ventilated area before putting it back into the cover.
Throw pillow without removable insert
The most difficult throw pillows to clean are those with non-removable inserts. This is sometimes a problem with vintage and handcrafted pieces. To address this issue, first gently vacuum both sides of the pillow using the upholstery attachment. This will ensure that surface dirt, hair, and other debris are sufficiently sucked up.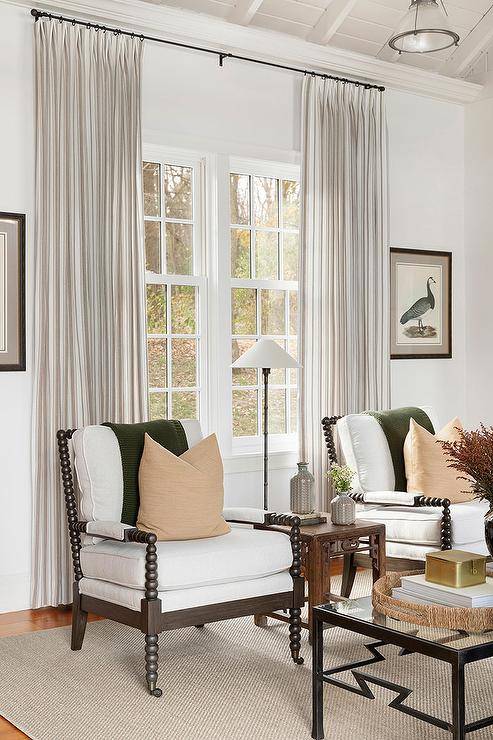 You can then pre-treat any blemishes or marks using the spot treatment method described earlier in this article. If you need to "spot treat" the entire surface, don't submerge one of these pillows completely in water. A wet center can cause mold.
Keep your throw pillow fresh
Choose machine-washable pillowcases for high-use rooms, especially if you have children or pets.
Place high-quality pillows in low-traffic areas and rooms where no snacking or eating is allowed.
Attack any spills as soon as you notice them to prevent dirt and stains from settling into your fabric as you sit on your pillow.
Add a cushion to your regular vacuum cleaner.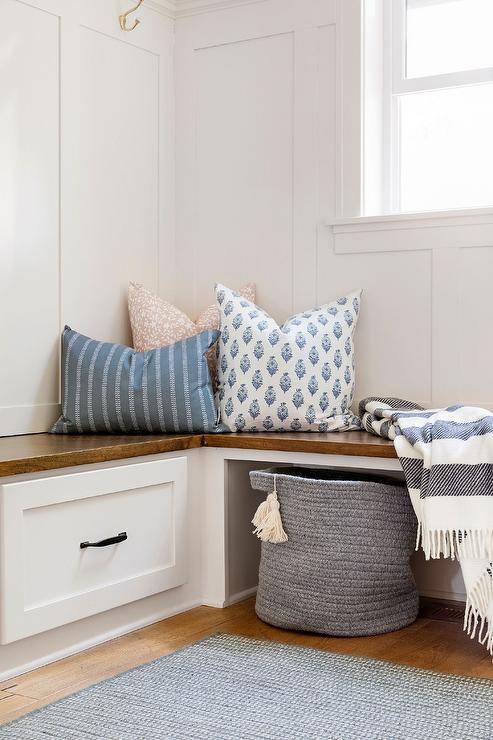 Tips to keep your throw pillow clean longer
Regular dusting and vacuuming will keep your pillows from having to be cleaned for a long time.
Using a cushion cover makes it easier to clean frequently, especially if it's machine washable.
Store hard-to-clean throw pillows in hard-to-reach areas where dogs, cats, children, and people's paws don't get dirty frequently.
How often should I clean my throw pillow?
Generally, cushion covers should be washed once a month and pillow inserts every other month. If you don't use your pillow often, you can delay the cleaning schedule a bit, but try to keep it within this time frame.
If you use your pillow frequently, wash the cover every few weeks. Exact timeframes vary from household to household, but don't use the cover for more than a month without washing and the padding for more than two months without washing.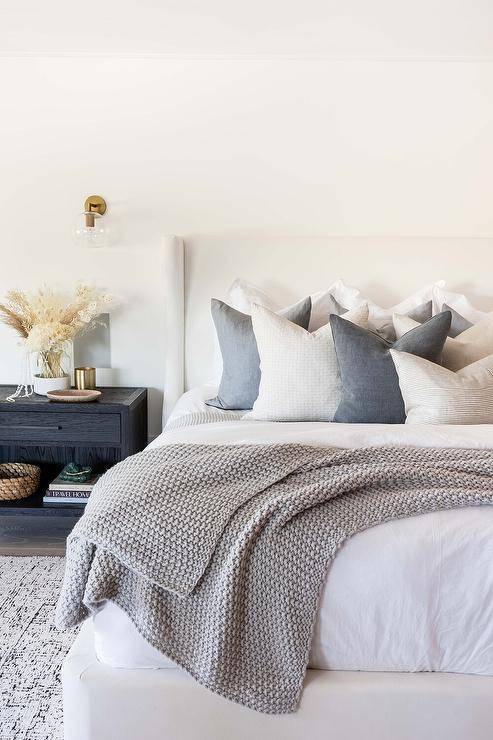 Frequently Asked Questions (FAQ)