I currently have work on the front porch and some irons in the fire waiting in the wings of a studio project. (We're getting bad weather and it's going to last a few days, so I'll be focusing on the studio until today and maybe next week.) So it's possible that I'm forgetting that I'm planning some changes. Go to the restroom in the hallway.
It's not a project I'm even trying to start. Front porches and studio projects are currently a priority. But he wanted to have everything he needed for a bathroom update, so when the front porch was finished and the studio was hooked on his project, he decided to do the bathroom update himself.Need a break from the studio" plan.
Here's what the bathroom looks like now…
I'm still working on all the updates I want to make, but I'm pretty sure I want (1) a new shower curtain, (2) a new vanity color, and (3) a new countertop.
I had already decided on the fabric for the shower curtain. My plan was to use the same fabric used for the pillows on the purple chair in the living room.
That fabric is one of my all-time favorites. I have a few on hand, but I was planning to buy more because they weren't enough for a shower curtain. It has been proven impossible. The fabric has been discontinued, but I thought it was still in stock somewhere. However, I scoured the internet for details on that fabric and found nothing. I received emails from both of them saying that the fabric was out of stock.
So I had to start over to find the perfect fabric. But I believe I have found some great candidates. At Spoonflower, I came across a particular designer who has several different watercolor florals (watercolor florals are my favourite).
*This article contains affiliate links.
This first one is my favorite. I wish the print was a little bigger (I like big flowers), but I think it would look very pretty as is. It's a happy, colorful fabric that doesn't look ugly. It's always hard to balance.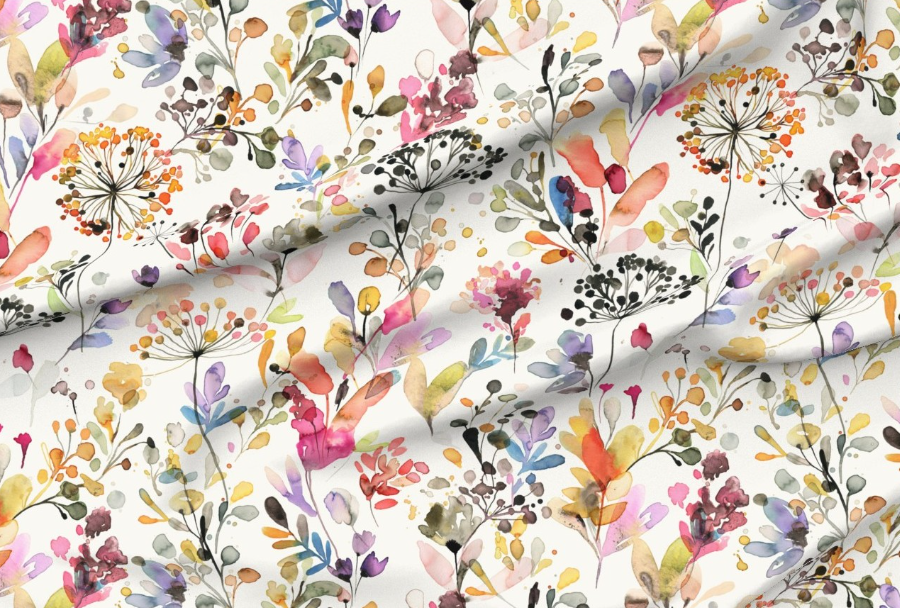 Same design but different color. I knew some people would say "too much teal!" but it's perfect for our house too. 😀 Never. You can never have too much teal.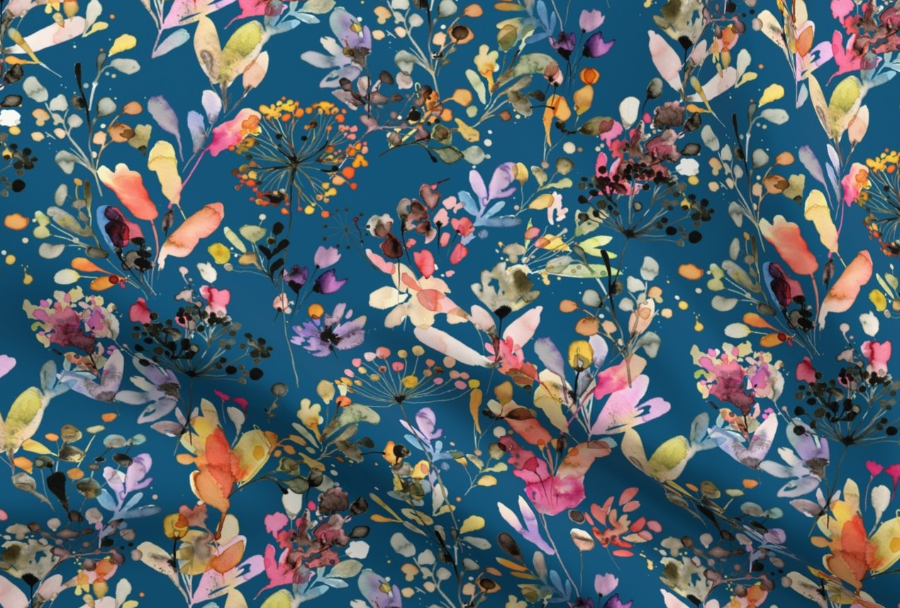 I really like the lightness and airiness of this next print. The flowers look delicate and look good in the bathroom.
And finally, this coral flower really surprised me. There are other colors, but this one is my favorite.
So if I had to make a good choice at this point, I would probably go with the first one, but the one with the turquoise background is a very close second.
In other news I got a new flower candlestick.
The task here is to find a way to make these candlesticks look like hand-carved plaster. Like the other very expensive flower candelabra I really wanted However, the price did not justify the purchase. I feel air dried sculpey clay is in my future.
So, now I prioritize working at the front door on a sunny day. On bad weather days (like today and tomorrow) and after the front porch is done, I focus almost exclusively on the studio until it's finished. But we know you'll need a break from the studio some days during that studio project, so here are these fun little bathroom updates that can keep you busy.
Addicted 2 Decorating is where my husband Matt and I share our DIY and decorating journeys as we modify and decorate a 1948 Fixer upper that I bought in 2013. Do the housework yourself. You can find out more about me here.
I hope you will join me on my DIY and decoration journey. If you'd like to follow my projects and progress, subscribe below and each new post will be delivered to your email inbox. That way you never miss a thing!