The evolution of open floor plans has truly reshaped the kitchen character of our home. Just fifty years before him, the typical kitchen was often a separate, isolated room. The general idea was that the kitchen was purely a work space, and that any chaos and fuss that occurred there should be hidden from visitors or sudden phone calls.
but Things have changed over the years, as well as our attitudes and the structure of our homes. As a result, kitchen remodelers are frequently asked to incorporate open concept layouts. Transform your kitchen from a purely functional space to a favorite gathering place.
Would a mini-office or message center make your kitchen more efficient?
Many families now walk directly into the kitchen from the garage, which can lead to a pile of "stuff" on the counter space. The kids are doing their homework at the Kitchen Island Bar and you may find yourself sitting at the kitchen table or counter while you email or work.If Your kitchen is a 'hotspot'" Consider adding a message center or a small home office to your home, depending on the space available.
Read below to decide which of these three ideas is best for your home.
message center
The message center doesn't need to take up that much space. It could be as simple as using the countertop/drawer space at the end as a whiteboard, chalkboard, or corkboard so you can "send and receive" handwritten notes and reminders.
Eliminate "junk drawers" by using drawer or cabinet organizer Helpful for storing paper, pens, pencils, clips, sticky notes and basic office supplies. Hang a key hook or add a hidden outlet or charging station to keep your gadgets in one convenient place.
via image An original mom
small home office
If you have the space, we recommend adding a small home office space. This can be easily done by simply creating corners at the edge of the wall, edge of the wall, etc. As part of the Kitchen Peninsula. A small home office should be able to accommodate at least a laptop and a printer. Shelves and drawers can be combined to keep things organized. All of this can be accomplished in a way that complements the overall design of your kitchen.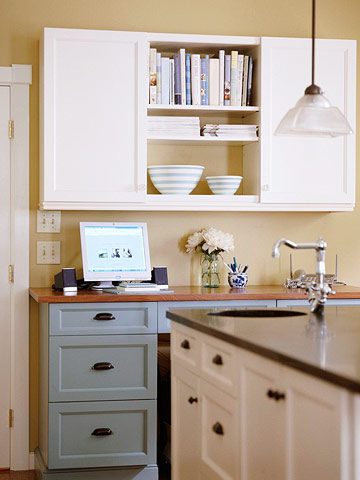 via image better home and garden
bigger home office
You can take the open floor plan concept a little further and create an integrated home office that blends the kitchen and living room. It can hold all your office supplies as well as small ones, providing additional storage space and shelves for books and other essentials.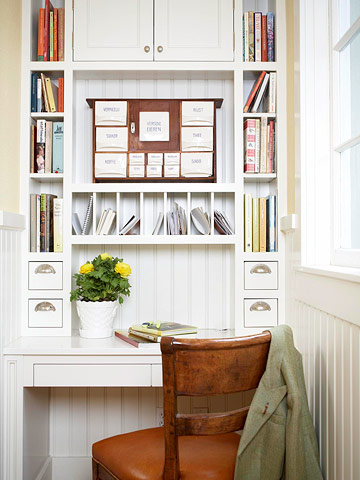 via image better home and garden
Looking for the best kitchen remodeling contractor? Contact Kitchen Magic!
Thinking about a desk for your kitchen office or planning something else? Our design team is always happy to help consultation at home Discuss how the message center or small office kitchen area could be integrated into the refurbishment plan. Leave it to Kitchen Magic, who are committed to creating a kitchen that you and your family will love for years to come. You can also rely on us to keep you up to date at every stage throughout the process.