Composting is a simple and easy way to get started for anyone looking to reduce their carbon footprint or live a more environmentally friendly lifestyle. A process that breaks down organic waste into nutrient-rich soil conditioners that can be used as fertilizers for plants and gardens. Composting can seem pretty complicated, but creating a DIY kitchen compost bin is an easy and affordable way to reduce your carbon footprint and create nutrient-rich soil for your plants. is.
Not sure where to start? We've put together the perfect do-it-yourself guide to making an easy, eco-friendly kitchen compost bin. Whether you're looking for a DIY countertop or under-sink compost bin, learn how to make a kitchen compost bin and how to incorporate it seamlessly into your natural kitchen design.
How to make your own indoor compost bin
If you're not the most dexterous person with a full set of tools, don't worry. We have the knowledge and know-how to pass on so you can navigate the composting process with confidence.
Materials needed:
A plastic or metal container with a tight-fitting lid
Drill with a large drill bit (1/2 inch or larger).
Newspaper or brown paper
Compost starter (optional)
Step 1: Choose a Composting Bin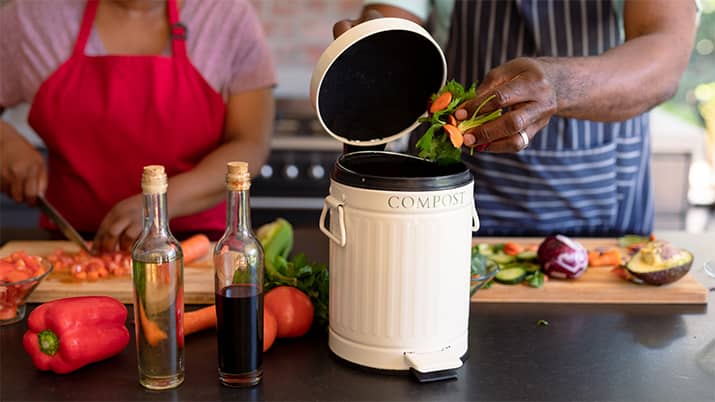 Are you scouring your Pinterest feed looking for creative compost bin ideas? The options are endless — trying to determine the ideal compost bin can be a little overwhelming. Or choose something basic like a metal bin, or go for a DIY project and use an old unused wooden pallet, a large plastic storage bin, an old trash can, or a cute pot of home goods.
Whatever type of kitchen compost bin you choose, make sure it's at least 1 cubic foot in size for optimal composting. Pro tip: Indoor compost bins should have lids to prevent unpleasant odors from leaking into the kitchen.
Step 2: Prepare your compost bin
When you think of composting, you probably imagine adding food scraps from vegetables and fruits to your compost bin. But before you can start composting, you'll need to finish setting up your kitchen compost bin. Line the bottom with newspaper, dead leaves, or grass clippings to keep the compost from sticking to the bottom of the container.
Step 3: Add Compost Starter (Optional)
Although optional, the compost starter is useful for beginners who are just getting started with composting. Add a small amount to the bottom of the container along with newspaper, dry leaves and freshly cuts to activate the composting process and reduce odors.
Step 4: Start Composting
Add extra food scraps to the compost bin as you prepare lunches for the kids or make delicious meals for your family. You can add paper products.
Step 5: Keep Your Bins
Compost bins are relatively easy to maintain, but they do require a little maintenance to ensure healthy compost. Check the compost weekly (if not daily) to make sure it is moist. If the mixture seems dry, you may need to add more water. You can add another layer of grass. Stir the contents of the container every week to promote decomposition, prevent clumping and create a healthy compost.
Step 6: Harvest the Compost
Seeing our compost in action is the moment we've all been waiting for! It should smell earthy and be moist to the touch. When you're ready, you can harvest the compost and use it as fertilizer for your indoor herb garden, plants, or outdoor garden. Then you can start fresh and continue composting.
FAQ
How long does it take to compost?
Composting is not difficult, but it does require patience. It can take weeks or months to have healthy compost ready for your garden. Factors that affect how long it takes to compost include the size of the compost bin, the food waste being composted, and environmental conditions.
What can you compost?
Composting makes it easy for you and your family to safely dispose of food waste in an environmentally friendly way. Add to container. You can also compost meat and dairy products, garden waste and paper. Note that it is not
When will you know your compost is ready?
After spending all your time and energy building and maintaining your compost bin, you need to make sure your compost pile is actually working. Did you notice the pleasant earthy smell? Is the compost noticeably dry or moist? Healthy compost smells like earth and has a moist consistency.
Can I compost in my apartment or small space?
You can make compost in your apartment, but you may have to compromise on the size of your compost bin, especially if you don't have a garden. We recommend using an under-sink compost bin, or a small over-the-counter compost bin.
Andrew Saladino

Andrew Saladino is the co-founder of Kitchen Cabinet Kings and has helped over 10,000 customers with their remodeling projects. He is a nationally recognized kitchen and bathroom expert from his NKBA, and his advice has appeared in major publications such as his Forbes, Huffington Post, Mashable, and Yahoo!. small business, etc.