After the rainy season here in Central Texas, I'm hoping to finally find time to start landscaping my garden this year. I don't know how long it will take, but I would like to separate the flower beds in front of the house and the front door and plant something there. Of course, we want to do more than that. Of course, there will be grand plans for the backyard eventually, but we'll see how much time we actually have.
That's why I'm constantly scrolling through Instagram looking for great landscaping and outdoor ideas to incorporate into my plans. For my birthday last year, Matt bought us an amazing landscape plan for our one-acre lot.
So a lot of guesswork has been removed for me, but a lot of decisions still need to be made.
One of the decisions I've been struggling with is how to frame the flower bed on the front of my house. I haven't had the opportunity to do much landscaping in my life. In fact, the only time I actually did anything was at my first home in Oregon. I made a low retaining wall around the entrance porch and planted flowers. It was like…
I didn't want to see that retaining wall look again. I don't hate it, but I think it's a little too perfect. And even as I write it, I know it sounds weird. I basically like things that are perfect, symmetrical, tailored, and clean looking. However, when it comes to outdoor gardens and landscaping, I've found myself attracted to less than perfect things. I like the more natural look.
So I waited for the perfect inspiration. And last weekend, when I was scrolling through Instagram, I found it!I found an account called psychiatrist's garden. This is the account of a woman who is not only a psychiatrist (as the name suggests) but also an absolute magician when it comes to gardens. I spent her 45 minutes scrolling through her account over and over.
but it was first reel i saw from her It got me hooked. And just like that, I knew exactly how I wanted to trim the edge of the front garden flowerbed…and wherever there were other flowerbeds. She has these wonderful stone borders around all the flowerbeds in front of her house…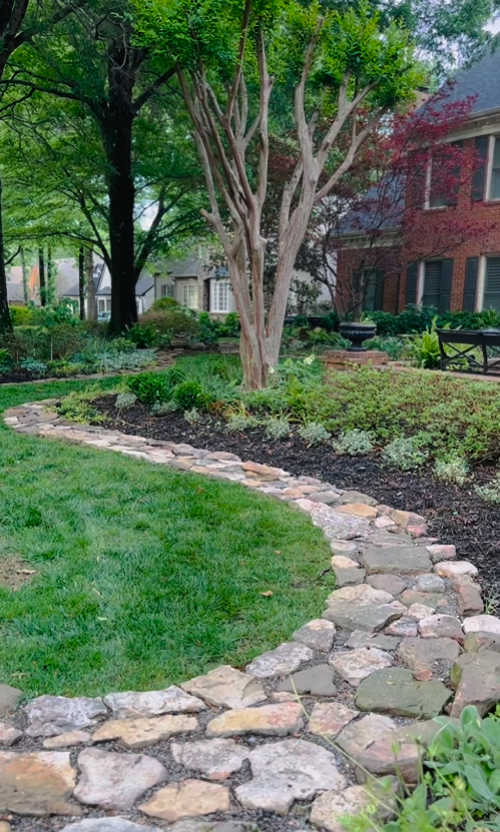 I find this style so appealing to me because it's the perfect combination of perfection and tailoring (see how perfectly the edges fit against the lawn) and a natural look. It's the best of both worlds!
I scrolled and scrolled and read a lot of comments to find out what these boundaries are and how she set them. Some of the stones came from her property, but she mixed them with her own purchases. She calls them wild stones, so she plans to contact a local stone store to see if she can find these. I mean, isn't it perfect?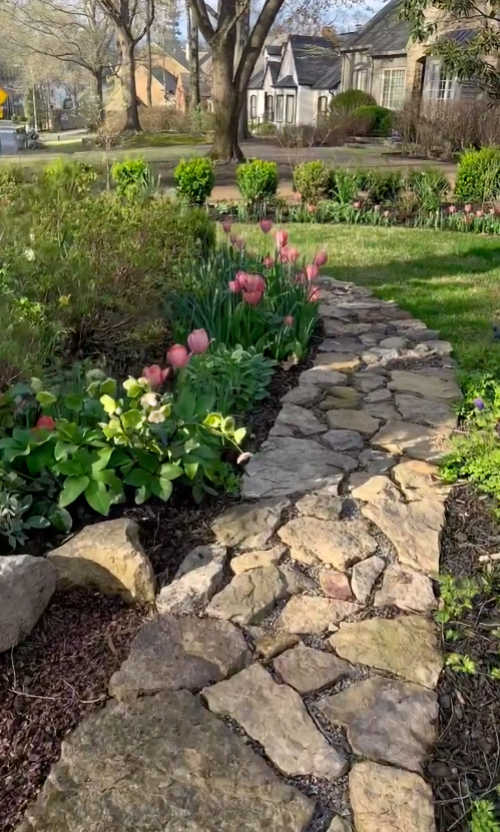 But in front of my house exactly what i want.If you're looking for landscaping ideas, I highly recommend following Psychiatrist's Garden on Instagram. Her gardens are so gorgeous and there are so many details to see. There are endless inspirations out there. And I'm incredibly happy to finally have some clarity about our front flower bed. Over the past few months, I've been scrolling through Instagram and driving around town, keeping an eye out for the perfect idea. As I was scrolling through the reels, her reel happened to pop up and stop me.