Homeowners who value both form and function want an IKEA kitchen design.
Since the dishwasher, we can all agree that the roll-out trash can is the perfect thing to hit your kitchen design. No more struggling to access.
It started with a solution like that brought to you by the Rev-A-Shelf internal cabinet organizer.
With something like Rev-A-Shelf's Soft Close Aluminum Bottom Mount Waste Container, you can keep your trash and recycle in the same cabinet and have easy access to both. Many wooden bottom-mounted waste containers have trash, recycling, and additional home storage. Just open the cabinet and everything is yours.
Homeowners and design professionals alike are jumping on the rollout bandwagon for under-the-sink storage. Thanks to pipes and water lines, these areas are always a hassle to access. Rev-A-Shelf has developed his U-shaped vanity drawer for under the bathroom sink and his two-tier sink base organizer designed for use in the kitchen.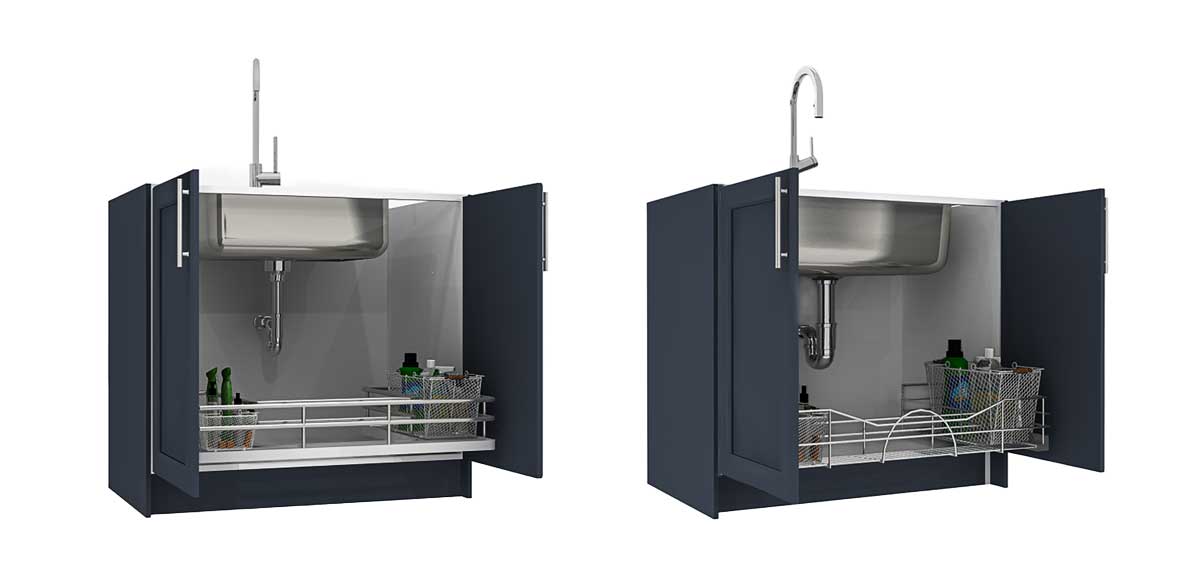 But what if you could eliminate cabinets altogether and design your kitchen using only drawers instead of base cabinets?
personalized ikea kitchen design
Created by Certified Designers

let's start
Drawers are the next evolutionary step in kitchen design.
Our article on blind corner cabinets explains how frustrating it can be to squat down to get inside a cabinet. What if you never had to squat again?
This type of design works especially well with IKEA's SEKTION cabinet. Their versatility allows them to be equipped with either UTRUSTA shelves and door fronts or MAXIMERA drawers.
For example, a 24″ x 24″ x 30″ SEKTION base cabinet frame can be fitted with UTRUSTA shelves, HAGGEBY doors and UTRUSTA hinges to create a traditional split base cabinet. A great place to stack your mixing bowls and Tupperware.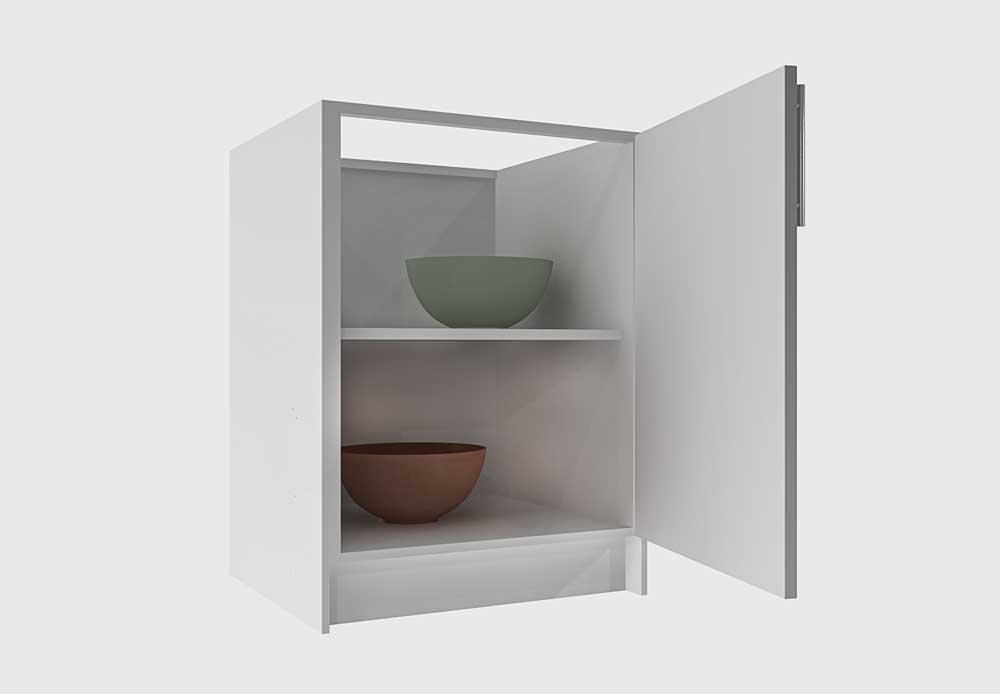 OR use the same 24″ x 24″ x 30″ SEKTION base cabinet frame to accommodate two 24″ x 24″ x 8 3/8″ MAXIMERA drawers and a 24″ x 24″ x 3 1/8″ MAXIMERA Use one drawer and HAGGEBY. UTRUSTA drawer front. This option provides three levels of storage in the same space. No need to squat.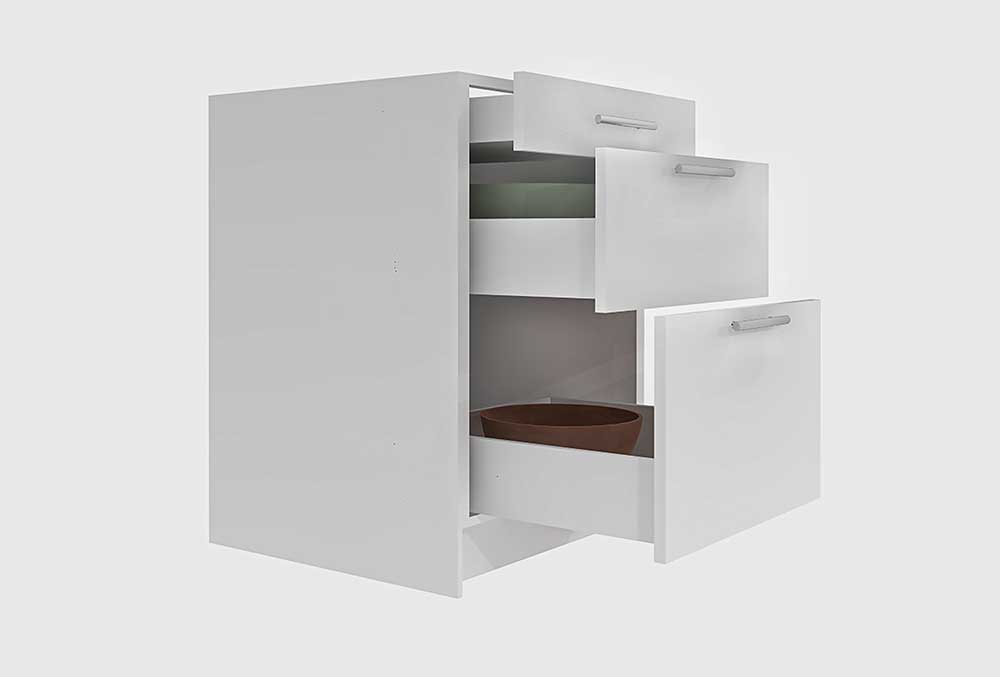 If you don't like the asymmetrical look of different sized drawers, you can still get a three-tier configuration, but with two drawer fronts. The IKEA MAXIMERA Low Drawer (24″ x 24″ x 3 1/8″) can be hidden behind large drawer fronts, preventing narrow sections from ruining the desired kitchen look.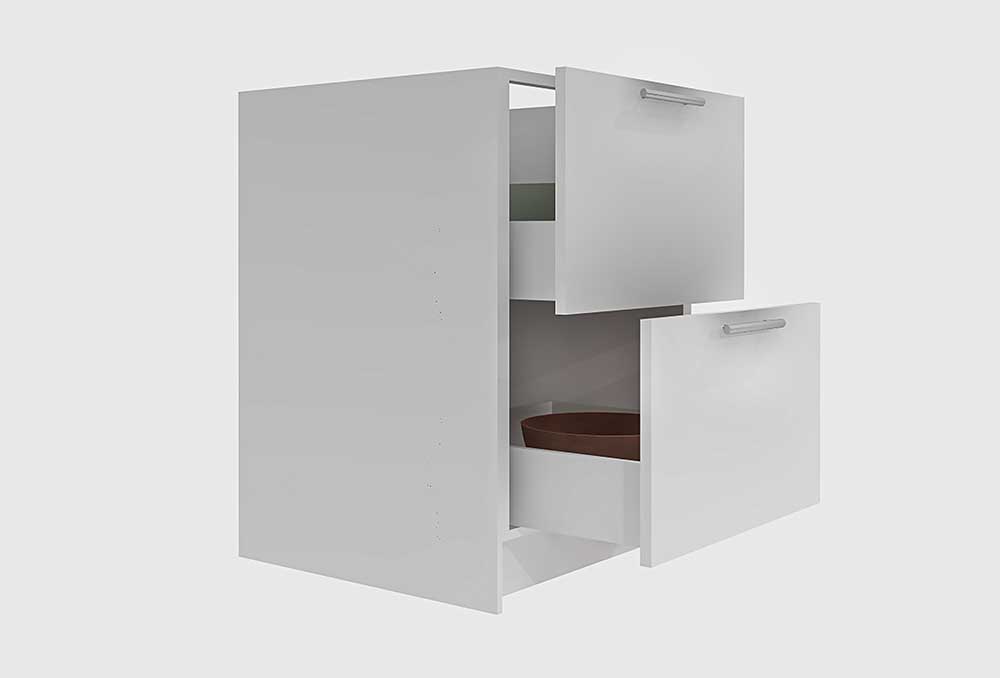 Is it practical to use all drawers instead of cabinets?
absolutely. Drawers provide more usable storage space overall and nothing gets lost in the back abyss of the cabinet. This setup also makes aging in place easier.
For the serious chef, IKEA's 24″ x 24″ x 3 1/8″ MAXIMERA drawers combined with MITTLED lighting provide the perfect opportunity for a misan-place setup. It's like storing your most-used spices and utensils in a drawer, or creating extra counter space as a place to store cutting boards and prepped ingredients.
Your options are endless.
Here are some reasons why I love using IKEA drawers instead of doors.
The organizers make sure everything is in place.
Some people worry that small items will get lost in the bottom of the drawer instead of behind the cabinet. You can use the organizer in drawers in the same way you use it in cabinets. The main difference is that cabinet organizers often offer drawer options. Drawers already offer that: IKEA sells a range of utensil organizers, trays with knife racks, plastic drawer dividers and wire partitions. I especially like it because I can separate dishes and containers. Rev-A-Shelf also offers a range of drawer organizers, including wooden dividers and spice drawer inserts.Drawer organizers help you think outside the box. You don't need a spice rack that takes up space on your cabinet or counter. Spices can be pulled out. No knife rack needed. Anything fits in your kitchen drawer.
Drawers may not hold large appliances, but there are innovative solutions.
Depending on the dimensions, IKEA's MAXIMERA drawers have a load capacity of 45-55 pounds. Even the largest stand mixer weighs about 35 pounds, and a 6-quart crockpot weighs about 20 pounds. Maximera drawers can therefore accommodate large appliances and accessories without bending the rails or compromising the integrity of the drawer. An ideal solution might be an appliance garage.

Appliance Garage keeps your countertops looking clutter-free by offering counter-level cabinet options for larger kitchen appliances. Hide toasters, mixers, food processors, blenders, and more behind sleek door fronts , combined with roll-out accessories, can be slid onto the counter when you need it and when you're done.It's also a popular solution for those who like the idea of ​​a hidden coffee station.
No vertical white space.
Even with shelves, it's difficult to get all the space in a cabinet. That's why under-shelf baskets exist, but they're not very attractive or practical. Makes sense, right? You'll notice that with the drawers installed, you'll have 3 inches less storage space.You'll need to make room for the drawers and rails, so open the cabinets. But if you're not used to it, what's the extra room for? can hold the cup. 24″ x 24″ x 30″ SEKTION base cabinet with 3 1/8″ MAXIMERA drawers. Imagine taking advantage of a shelf that's only 3 1/8 inches tall.As a drawer, it works.
It's a wasted space on the shelf.
Your kitchen will come to you.
This advantage cannot be overemphasized. A casserole dish is required, but it is at the bottom of the stack of dishes.


---

With a traditional cabinet, the scenario looks like this:
Open the cabinet door, squat on the floor, pull out a pile of dishes (hope no nasty cabinet dividers/fillers get in the way), put that pile on the floor (nobody lifts that 30 lbs. because they don't try). Squat to stack on counter), get the food you want, put it on the counter, come back, clean up the stack of food, and finally start cooking.

---

This is what it looks like with the drawer attached.
Open the drawer, pick up the stack of plates and place it on the counter, choose what you want, put the plate back and close the drawer.
IKEA kitchen customers choose drawers over doors.
A mother-daughter duo from Connecticut chose drawers over doors for their mother's IKD kitchen design because they were more functional and looked nicer.
Former IKEA colleague and enthusiast Baltimore Betsy We shared stories of clients who chose drawers for their accessibility and aging. She's 5'4 and she's 68, and drawers were the obvious choice for her small condo kitchen.
Drawers work for you, keeping your home cooking and entertaining experience frustration-free, but cabinets often work against you.
To redecorate your IKEA kitchen, consider drawers instead of traditional base cabinets.
Get Professional IKEA Kitchen Designs – All Online


Work with a certified kitchen designer to get a personalized kitchen designed to suit your needs and vision. To learn more about IKEA kitchen design services, visit IKEA kitchen design services.