If you've been following my studio projects, you know I wanted to add the flower mural I created for the long front wall of my studio to the back entrance wall as well. I made a mockup of that too and started getting really excited about the idea.
But then I was faced with the reality of money, budget, and all the not-so-fun things to think about. Wallpapering a back entry would cost upwards of $1,000, and I'm willing to spend a little more, but it wasn't high on my priority list. So I decided to paint the walls a solid color instead and add lots of colorful artwork to the walls.
I haven't changed my mind. That's still the plan. But I couldn't let go of the idea of ​​bringing that flower into that part of the room in a creative way. Some suggest framing some of the mural wallpaper and using it as wall art, while others suggest using it just for the ceiling.
I didn't want to do either, so I decided to upload and order the large design for the mural wallpaper, while also uploading a smaller version of the design. Let's see how it looks on the fabric. For some time now, I've been thinking about using that floral velvet fabric to reupholster my desk chair. (This is why I use velvet so much in my upholstery.) I liked the look of the fabric and was pretty stuck with the idea of ​​using it for a chair.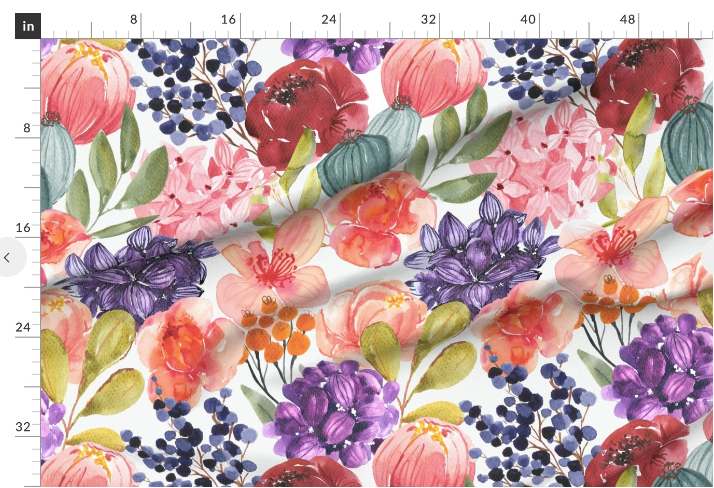 I've actually only used Spoonflower to upload things I'd like to try in my own home, and I've always uploaded with a very specific project in mind. So, although I knew they offered a range of products other than wallpapers and fabrics, I hadn't paid much attention to their other products, let alone considered buying them.
But this time, I decided to take a peek and see what products were available to see how my flower design would look on different products. I understand that you are dealing with various products.– Everything from fabrics and wallpaper to cocktail napkins, throws, bedding, pillows and curtains.
Tea towel! I might buy a few for my kitchen. What a fun and bright pattern on a tea towel!
When I was looking around, I saw that curtain and thought, "This is it!" You can also buy fabric and use it to make back door curtains. We also have ready-made curtains and the price is not bad. But I don't like rod pocket headers, so I don't have the option to line them.But at least I could see What happens when the fabric is made into a curtain!
So instead of buying ready-made curtains, I bought 6 yards of fabric to make my own lined pinch pleat curtains. It won't look exactly the same as having a bold mural on your wall, but you can still get the same bold colors and patterns for a fraction of the cost. I am pretty excited about this idea! Here's a little mockup of what the curtains might look like…
I'm still going to paint the walls. The green doesn't do anything for me anymore. But I also don't like the idea of ​​painting the walls in neutral colors. I like the boldness of green, but I don't like that particular green. I don't think it will go well with your cabinet color, but I'd say 95% of the time it's the tuberose color on the left in the photo below.
You might want to take either dark blue or purple from the fabric and use it on your walls. I think darker blues and purples look good with the color of the cabinet. And I know I like the combination because I've already used similar colors in the buffet and curtain colors in the next room (living room).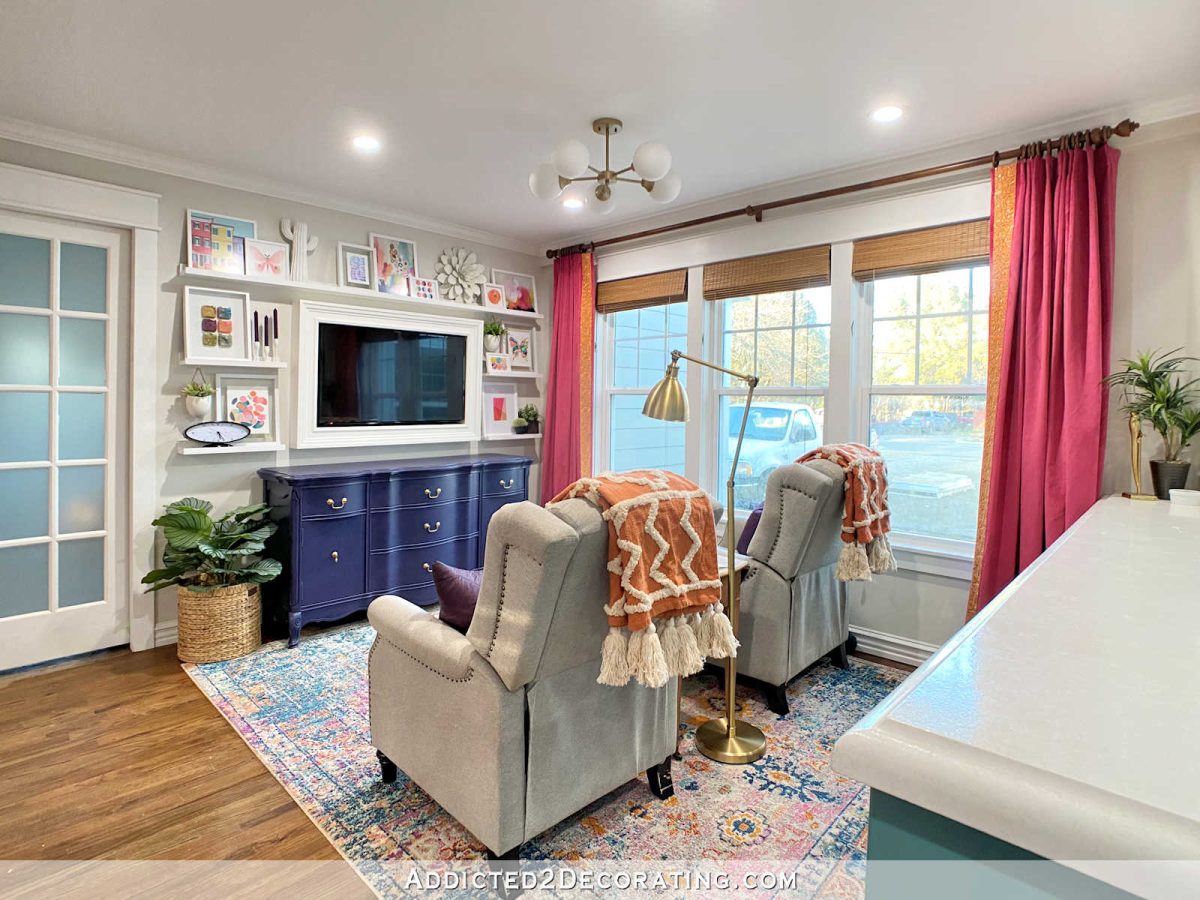 Let's see! I need to get the fabric tomorrow. Then you can get some paint samples and start narrowing down the possibilities.
In Addicted 2 Decorating, I share my DIY and decorating journey of modifying and decorating a 1948 Fixer upper that my husband Matt and I purchased in 2013. Matt does most of her work because she has MS and she cannot do physical labor. I do my own housework. You can learn more about me here.