Thank you for reading this post. Don't forget to subscribe.
A blank wall can be a little intimidating, but it doesn't have to be. The wall space in your home is the perfect canvas to express your unique personality and style, taking your interiors to new heights. Today, we'll show you some creative and simple decorating ideas that will turn your blank wall space into a stylish statement that enhances your home's aesthetic appeal.
10 ways to organize your studio apartment
Please enable JavaScript
---
Transform empty wall spaces quickly and easily with creative solutions. From statement wallpapers and art prints to customized shelving units and tapestries, there are countless ways to elevate and personalize plain walls.
Whether classic or modern, these decorative touches add style and character to any room in your home. With the right accents and touches, a blank wall can be a great focal point to add color, texture and depth to your space. Refresh your home decor easily with these simple tips.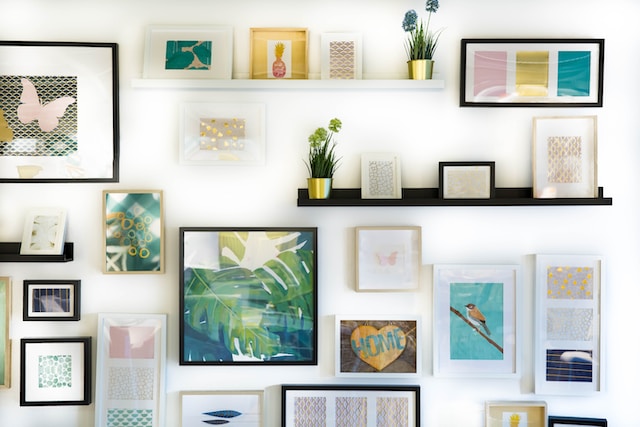 1. Combine and match photo frames
Hanging art and photos on the walls is probably the easiest and most classic way to spruce up an empty space. Showing off your artwork is a great way to personalize decorations that speak to you and your style. You can make it even more interesting by combining different sizes and styles of frames.
Choose frames in a variety of shapes, colors and finishes to complement your existing interior. Hang it in a cluster or gallery wall arrangement to create an attention-grabbing focal point in the area. You can also combine artwork with framed accessories such as postcards and prints for a personal touch.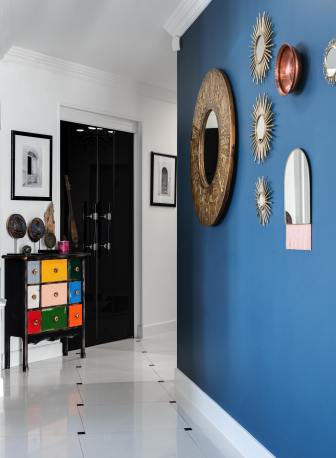 2. Try a Simple Accent Wall
Adding an accent wall to a negative space or a blank wall can breathe new life into it, especially if you're looking for a bold statement piece. Wallpaper and bold paint are also great options, but a DIY accent wall can bring a unique texture and pattern to your home.
Painting this blank wall space a dark color like navy blue or black can add a dramatic touch to your home. A dark green accent wall adds a soothing touch of nature, while the striped pattern adds dimension and texture to the room. Choose an artwork or decoration that blends perfectly with the dark paint color and make it the focal point of the space. If you have plain white walls elsewhere in your home, painting just one accent wall in your home can make a big impact.
Also consider textured accent wall ideas. For a rustic feel, think shiplap, beadboard, boards and battens, or reclaimed wood planks. Graphic wall decals and stencils also work well for a modern feel. Choosing a wall that catches your eye as soon as you enter the room can make an immediate impact. Also, if it's an accent wall, try to keep the other walls in the room in a bright, neutral color.
You can also choose a striking wallpaper. Choose a sticky wallpaper that blends in with the rest of your home's interior design. If the decoration is more traditional, you can opt for floral or geometric patterns. For a contemporary look, try something abstract, such as a brightly colored geometric wallpaper.
3. Create more storage space
If you're looking for a functional way to enhance this empty wall space, increase the functionality of the unused space by adding more storage space. Try adding storage shelves. These versatile items provide a convenient place to store your shoes, hats and scarves while creating an interesting decorative element in your room. You can custom design it or choose from a variety of materials such as wood, metal, and fabric.
Floating shelves are an underrated decorative option with potential for both function and style as additional storage space. It's the perfect solution for storing trinkets, photo frames, plants, and books while adding visual interest to a bare wall.
Choose from a variety of sizes and shapes, including staggered shelves. Additionally, multiple shelves can be arranged in specific patterns to achieve the ideal balance and aesthetic appeal. To create a consistent and unified look, use a similar color scheme or theme and utilize shelves to showcase your favorite articles.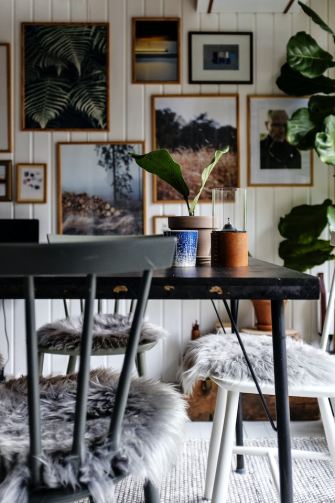 Four. Display a fun gallery wall
Gallery walls are a fun and engaging way to showcase your personality and room reflections. Gather your favorite collection of artwork, photos and prints in different frames, sizes and orientations and arrange them in ways that tell a story or make an impact.
If you really want people to know who you are in this space, photos of friends and family are a great way to do that. Photos are also a great display of your memories and the unique pieces that make your home a favorite place.
Simply select the best photos from your collection, frame them, and hang them side by side or in any other creative arrangement to create a gallery wall. Choose pieces that complement the color scheme and style of the room, and use picture shelves and hooks to hang them in an asymmetrical display that feels fresh and natural.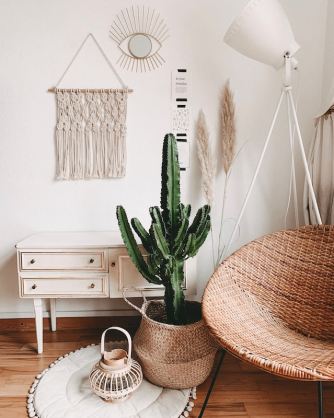 Five. accent the wall or 2
Sculptural wall accent pieces such as statement mirrors, artwork, and wall hangings can add a touch of elegance and sophistication to a bare wall. Look for pieces with appealing color, texture, or symmetry that add interest and contrast to the area. Pay attention to scale and proportions so that the work stands out without breaking the balance of the room.
Especially modern wall sculptures are an interesting way to bring a touch of contemporary art and design into your space. You can also opt for metal wall sculptures and ceramic pieces for a more classic look. Patterned plasterwork, sculptural artwork, or just plain textured wallpaper are also great options to add visual interest and depth to your walls.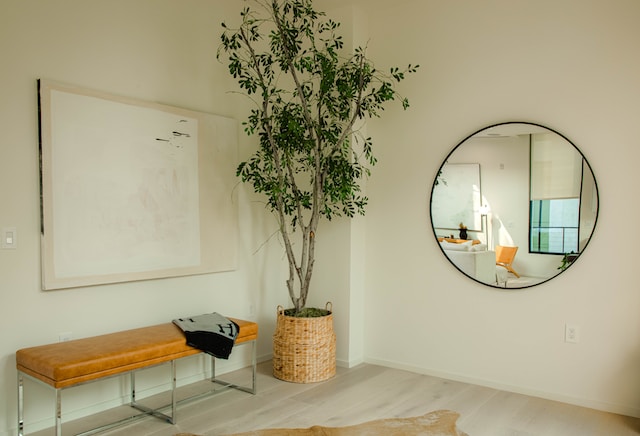 6. Add statement mirror
A mirror is a great way to fill an empty wall and can brighten up an entire room. Choose mirrors with interesting shapes and frames that match your home's color scheme and design style. Large floor length mirrors are ideal for small hallways as they create the illusion of space while adding light and texture to the area. Alternatively, a long rectangular mirror can be hung above the sofa in the living room to create a cozy atmosphere.
Interestingly shaped mirrors are perfect for bathrooms. Also, a small mirror can be displayed on the wall of any room. Look for interesting materials, unique shapes and textures to create stunning displays that will grab everyone's attention.
---
No matter the style or size of your home, there are endless decorating options that can make your wall space more attractive, stylish and functional. Whether you have a small apartment or a spacious house, there are many ways to make a blank wall more interesting and eye-catching. So why not turn that blank wall into a decorative paradise that showcases your personality and style?
Transforming a blank wall in your home into a canvas for personal expression and design statements doesn't have to be complicated or expensive. Grade your interior by implementing some creative and simple ideas like combining photo frames, adding floating shelves and accent walls, creating a gallery wall, and installing sculptural accents. up and breathe life into a no-frills space.
---
if you never knew elevate my space Download now! For one-on-one help with space and simple living solutions, email us at jipsecostudio@gmail.com.
process…
success! you are on the list
husband! The subscription could not be processed because an error occurred. Please reload the page and try again.