There are many ways to separate rooms and living spaces in a studio apartment, but there are actually more functional ways. Outside of permanent walls, traditional folding screens and free-standing partitions, maximizing the small square feet of one room, creating independent spaces and ultimately adding functional design elements can do.
10 ways to organize your studio apartment
Please enable JavaScript
Thank you for reading this post. Don't forget to subscribe.

Dividing a room to add functionality requires better utilization of the partition, rather than just providing privacy. Furniture items and unexpected design elements can be used to delineate spaces and add extra purpose to a room.
When it comes to home decor and interior design, everything has to be perfectly arranged, which can sometimes cloud your vision. Some floor plans are not perfectly designed and require creative ways to divide rooms. It's important to perceive space as it is and not try to fit it into something else.
I always say that designing a studio apartment or studio is a great test of your design ability. It teaches you how to use space functionally and creatively. It also teaches you how to solve problems and make the most of your space while keeping it cozy.
Here are 6 ideas to help you split up your room and make it multi-functional.
1. Foliage plants
2. Mirrored room divider
3. Storage unit
4. Console/dining table
5. Hanging light
6. Independent seating space
Foliage plant
If you're looking for a way to divide a room, houseplants are the perfect solution. Tall potted plants can be used as makeshift dividers to create two distinct living spaces and add natural beauty to your home. It's great because it's easy to move and can be placed anywhere in the room by simply repositioning it.
I talked about biophilic design in my last post, but being surrounded by plants is not only pleasing to look at, but it can also be calming and soothing. Certain plant environments are known to have many health benefits. Adding tall plants to delimit rooms can be both effective and a functional design element. Using tall potted plants as room dividers can help achieve this ambiance while also providing a way to functionally divide the space.
mirrored room divider
Mirrors are as functional as they are decorative and can be used to divide a room in interesting ways. A mirror in a small space can make the area feel larger and more open. It can also be used to create a reflection of the other side of the room to make the room appear larger.
A mirrored room divider is good because it visually does not take up much space and allows you to separate the living areas. Using mirrors as room dividers can create the illusion of more space and add style to your home at the same time.
Mirrors are known to make a room appear larger and brighter by reflecting light, so they're great if you want to make a small room look bigger. Using mirrors as dividers can create visually pleasing and interesting design elements.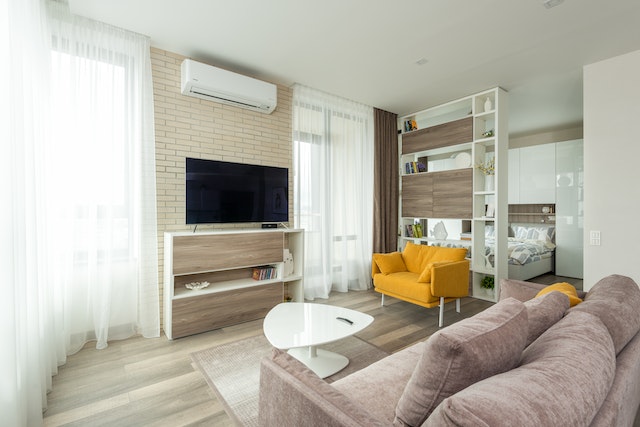 storage unit room divider
Obviously, storage units in small spaces are invaluable and can also be used as room dividers. There are many different types of storage units on the market, from tall bookshelves to short dressers and even just shelving systems. If you're looking for both extra storage and a way to divide up space, this is the ideal option.
A storage unit acts as a functional divider by allowing you to store items while simultaneously creating a physical barrier between two areas. This is great for separating a bedroom and living room or creating an office space within a large room. It's also a great way to keep all your belongings organized.
Shelves and drawers are available depending on the type of storage unit purchased. This allows you to maximize the amount of storage and organize your items all at the same time. Investing in a stylish storage unit gives you the best of both worlds: a functional room divider and a piece of furniture that enhances the beauty of your home.
console/dining table
A console or dining table is a great way to divide a room while still making it look stylish. Many studio apartments cannot accommodate a traditional dining table. So a wall-mounted table or console table can easily act as a room divider for that space.
Console tables are great because they are often narrow enough to provide a convenient flat surface on which you can place decorations, books, photos, lamps, and other items. This type of piece helps beautifully divide two different areas while adding style to your home.
Once you find a sufficiently narrow dining room table, it can also act as a room divider. A large table would be too bulky and is definitely not desirable. A long dining table is a great room divider and can be used to separate the living area from the bedroom. It can also be used as a place for activities, work and meals when required, making it both functional and decorative.
Using a table to divide the space is very versatile as it can be easily moved around the room if not attached to the wall. It also gives you an extra surface to put your decorations on.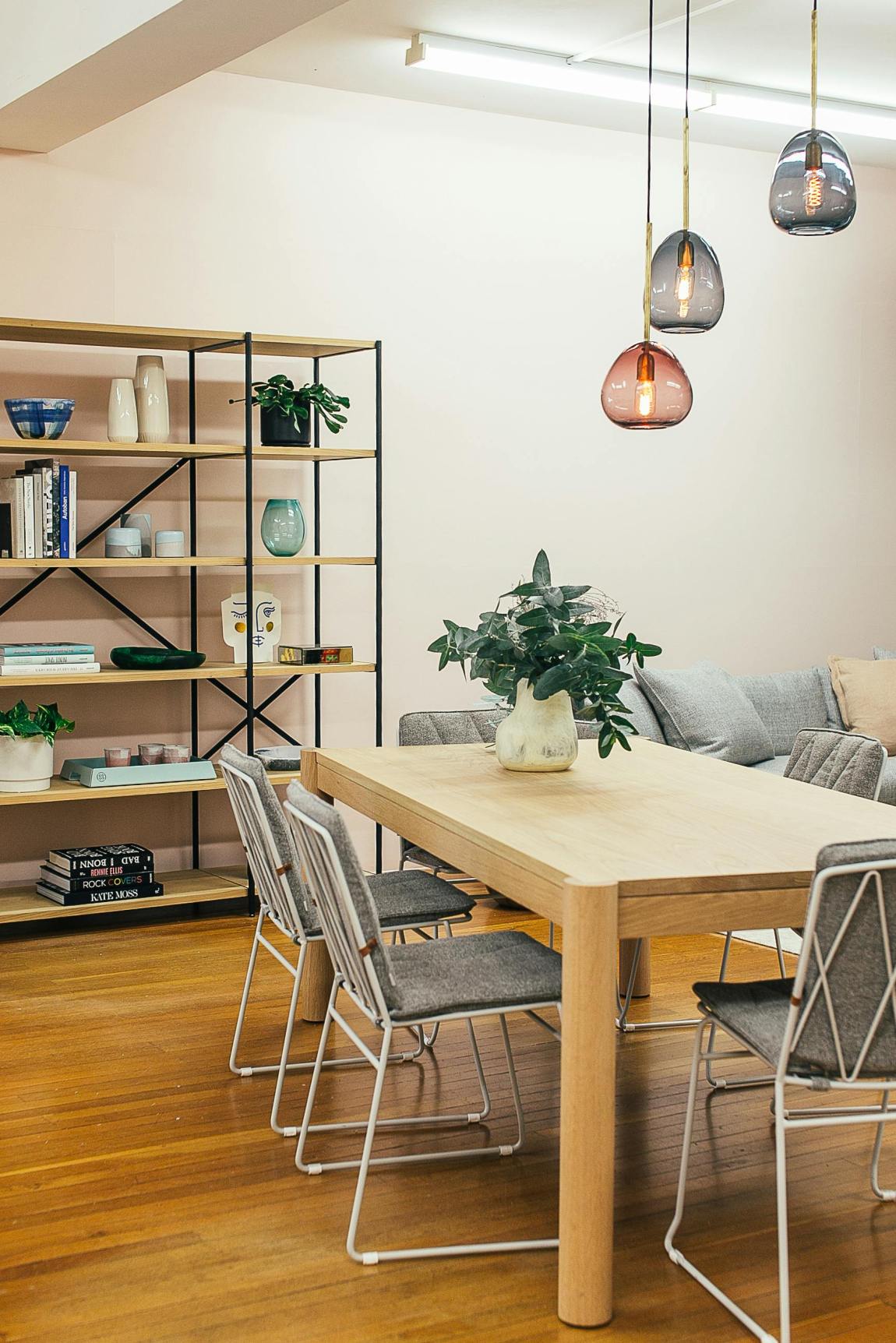 hanging lighting
Lighting design is also a great way to separate rooms. Besides acting as lighting, they can also be used to create partitions within a space. A pendant lamp or other type of lighting fixture can be suspended above the divider to separate the two spaces. This also adds a nice visual element that is both decorative and functional.
Pendant lighting is a great option for small spaces as it doesn't take up too much space. It goes without saying that this type of lighting fixture adds more drama to the space. The trick is finding the right type and size that fits your design style.
separate seating area
Creating separate seating areas within a small space can be an interesting way to divide up the space. This is especially useful for studio apartments and other small homes with limited space. Adding a few chairs, ottomans, or benches in different areas can create two different spaces that are both comfortable and functional.
This idea is great if you want to separate your living room from your bedroom and dining area. Because seating furniture gives you flexibility to move around. You can also use different colors and fabrics to create a unique look that reflects your personal style.
With furniture like this, it can be a great way to delimit your space. This makes the space feel inviting and comfortable. Add texture, color and depth to your space, declutter it and make better use of the available area.
---
In conclusion, there are many ways to divide a room, such as using tall plants, storage units, tables, hanging lights, separate seating areas, and more. Each of these ideas offers a unique opportunity to customize your space according to your needs and style. With creativity and careful planning,
These are just some of the ideas you can use to divide a single room in creative ways. With a little creativity, you can make any space more fun and functional. So don't be afraid to experiment with different design elements to maximize your living space.
---
if you never knew elevate my space Download now! For one-on-one help with space and simple living solutions, email us at jipsecostudio@gmail.com.
process…
success! you are on the list
husband! The subscription could not be processed because an error occurred. Please reload the page and try again.

report this ad